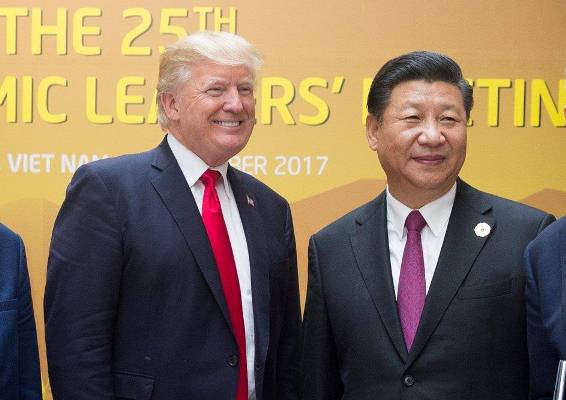 On July 6, the United States and China will each impose new tariffs on billions of dollars of the other's goods in what is feared as the start of a tit-for-tat between the world's two leading powerhouses that will reverberate throughout the global economy.
The U.S. is set to levy high tariffs on US$34 billion worth of Chinese imports starting 12:01 a.m. Eastern time Friday, which is just after midday in Beijing. China has vowed to hit back with $34 billion tariffs on U.S. imports as soon as the American levies take effect.
China has said it will not "fire the first shot," but made it clear that Chinese tariffs on U.S. goods would take effect immediately once U.S. duties on Chinese goods are enforced.
On June 15, President Donald Trump said the U.S. would begin imposing an additional duty of 25% on about $50 billion worth of Chinese imports containing industrially significant technologies, including those related to China's "Made in China 2025" industrial policy. He said this was in response to the "theft of American intellectual property." The tariffs are divided into two rounds—$34 billion now and $16 billion later.
Meanwhile, China's Ministry of Commerce said July 5 that the United States is hurting itself as well as the world by imposing additional tariffs, China's state-run Xinhua News said.
"If the United States starts imposing additional tariffs, it will actually be charging taxes on firms both in China and around the world, as well as American companies," MOC spokesperson Gao Feng said at a press conference.
Gao pointed out that China is an important supporter and participant in economic globalization and global industrial chain, as many of its export commodities are products made by foreign enterprises in China.
"Around 59 percent of products worth 34 billion U.S. dollars subject to additional tariffs are made by foreign firms in China, with American firms making up a considerable part."
"The U.S. tariff move is in essence a hit to the global industry and value chain," Gao said. "To put it simply, the United States is firing at the whole world. It is also firing at itself."
"We will monitor the effect of the U.S.-provoked trade war on businesses and strive to help mitigate any possible impact," he added.
Photo: US Embassy Canberra