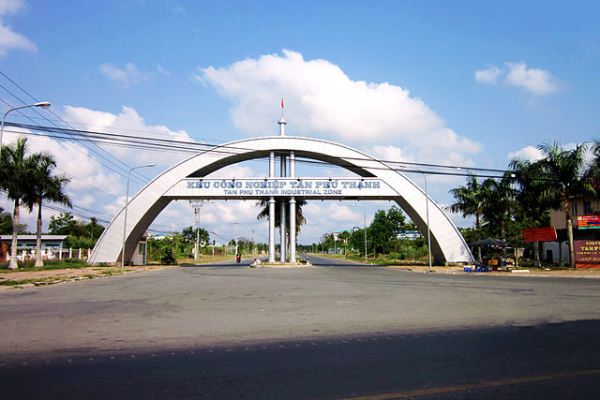 Many companies, a large number coming from China, are moving their factories to Vietnam, as the Southeast Asian country benefits from the US-China trade war and new free trade deals, according to a new report from Savills Vietnam.
"The US-China trade war, additional investment and new free trade agreements have all had a positive effect on Viet Nam's industrial sector," said Savills Vietnam, an analysis and research service provider on the Vietnam property market.
Savills made the statement at a conference on September 4 in Ho Chi Minh City to mark the release of its white paper on Vietnam's industrial real estate in the first half of this year.
The Comprehensive and Progressive Agreement for Trans-Pacific Partnership and the EU-Vietnam Free Trade Agreement as well as ongoing negotiations on the Regional Comprehensive and Economic Partnership are all doing Vietnam much good.
Moreover, "the trade war is driving companies to diversify and relocate," the paper added.
The companies that have moved to Vietnam included factories from China such as Hanwha (aerospace manufacturing), Yokowo (automotive components), and Huafu (textiles and garments), said the report.
Meanwhile Goertek (airpods manufacturing) and TCL (TV manufacturing) are moving to Vietnam, while Foxconn (TV hardware), Lenovo (computer hardware), Nintendo (gaming consoles), Sharp (camera modules), Kyocera (printers, copiers) and Asics (footwear production) are considering the move, the paper further stated.
"The industrial sector is growing strongly with a tenfold increase in foreign direct investment (FDI) over the last decade. Good land supply is facilitating incoming manufacturing projects and the rise of rental options with RBF [ready-built factories] and BTS [built-to-suit] solutions."
"Although occupancy in key provinces grew YoY, available land coupled with an array of upcoming projects has seen foreign companies significantly increasing investment in Vietnam," John Campbell, senior consultant, Savills Vietnam, said.
"Manufacturers are showing interest in the Central Regions while developers are actively converting agricultural land to industrial usage, guaranteeing additional supply," he added.
In the first half of the year, 1,723 new projects registered capital investment of US$7.41 billion, said the report. The manufacturing and processing sector attracted 605 new projects, accounting for 71.2% of FDI at $13.15 billion, up 39.8% year-on-year. Hanoi and Ho Chi Minh City were the best performers, obtaining 26.3% and 16.7% of FDI, respectively, with Binh Duong receiving 7.4% and Dong Nai with 6.7%.
Investments from Hong Kong accounted for 28.7% of registered FDI with $5.3 billion, followed by Korea with $2.73 billion and China with $2.28 billion. Industrial parks (IPs) and economic zones (EZs) attracted approximately 340 FDI projects with newly registered capital of $8.7 billion.
The report continued that despite occupancy in key provinces increasing year-on-year, numerous future projects allow foreign companies to increase investment.
"With interest in the industrial market at an all-time high, developers are actively converting agricultural land to industrial, ensuring additional supply. The central economic zone has captured the attention of foreign manufacturers; Nghe An, Hue, Quang Nam and Quang Ngai all offer new projects with competitive pricing."
In the first half of this year, there were about 326 established IPs, with a total area of ​​95,500 hectares. Of this, 251 industrial parks are operational with an area of ​​60,900 hectares, while 75 are under construction, compensation or site clearance, according to Savills Vietnam.
Moreover, there are a total of 17 coastal EZs with a combined area of 845,000 hectares in the first half.
Low labor costs and government incentives, particularly preferential tax rates, will continue to be critical drivers of FDI.
"Vietnam has a low-cost labor force, stable government and one of the fastest global growth rates—all appealing features leading to a fertile investment environment," the research paper said. "However, to maintain the transition to higher-value industries, Viet Nam must focus on the quality rather than the number of investments."
Photo: Bùi Thụy Đào Nguyên