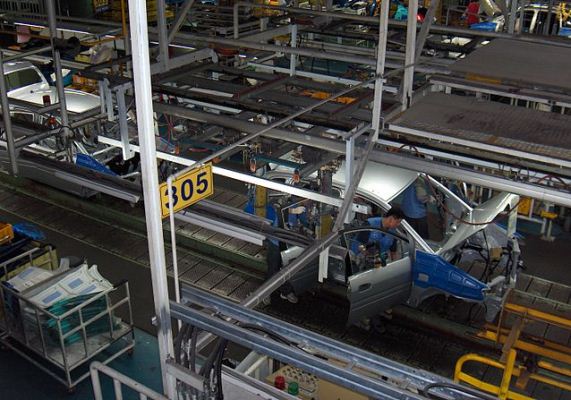 South Korea's exports broke records in the January-August period as solid demand for locally made semiconductors and oil products raised monthly exports above US$50 billion for the fourth straight month in August, a recent government report showed.
Exports, which account for about half of the export-driven economy, reached $399.8 billion for the first eight months of this year, up 6.6% from the same period of last year, according to data from the Ministry of Trade, Industry and Energy.
It is the biggest reading ever recorded in the eight-month period. If this trend continues for the next four months, the country's 2018 exports could exceed $600 billion for the first time.
In August, exports amounted to $51.2 billion, up 8.7% from a year earlier and the largest August figure.
Imports increased 9.2% last month to $44.3 billion, sending the trade surplus to $6.9 billion. The trade balance stayed in the black for 79 months through last month.
The country's brisk exports stemmed from manufacturing recoveries in major economies, especially in China and the United States, the expensive crude oil, and higher prices for key export items.
The ministry said the global economic recovery and robust prices of major export items, including memory chips and petrochemical goods, bolstered shipments for Asia's fourth largest economy.
Oil product exports surged 46.3% in August from a year earlier, surpassing $3 billion for 10 months in a row on the back of higher crude oil price.
Semiconductor shipments jumped 31.5% to $11.5 billion in August, marking the biggest monthly figure. Memory chip exports exceeded $10 billion for the fourth consecutive month.
Petrochemical shipments touched a fresh monthly high of $4.35 billion, while general machinery exports topped $4 billion for six months through August.
Automobile exports inched up 0.5%, ending the six-month downward trend due to the launch of new models in the U.S. market by local car makers.
Exports of steel products and computers posted double-digit growth, while those for display panels, textiles, and auto parts managed to grow last month.
Shipment of telecommunications devices, such as smartphones, declined 15.5% as local companies increased production in overseas factories.
Outbound shipments of ships continued to grapple with the slumping global demand and a high base effect, tumbling 71.8% in August compared with a year ago.
The Seoul government said the strong global demand in the manufacturing and heavy industrial sectors, as well as rising oil prices, will positively affect the nation's exports in the latter half of the year.
"South Korea's export growth is expected to hover around 5 percent in the latter half, which would enable this year's exports to surpass $600 billion for the first time," Industry Minister Paik Un-gyu said in a release. "But the external environment is not favorable due to rising protectionism in major economies and uncertainties in emerging economies following the U.S. Federal Reserve's interest hike."
Photo: User: Anonyme