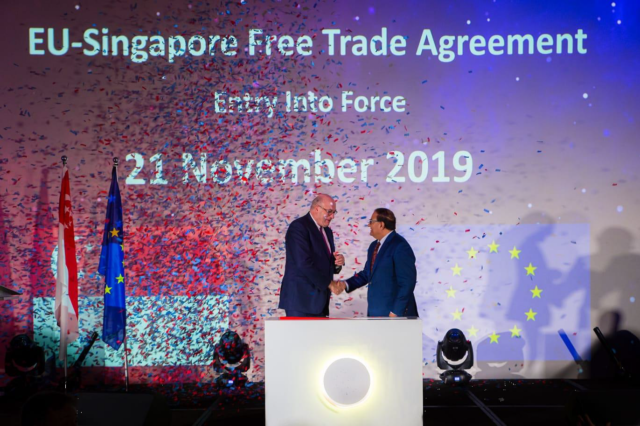 The EU-Singapore Free Trade Agreement (EUSFTA), the EU's first bilateral trade agreement with a Southeast Asian country, will enter into force later this month.
According to a release by the European Commission, the EUSFTA is set to become effective on November 21, 2019 after it was endorsed by EU member states last November 8.
Under the trade deal, Singapore will remove all remaining tariffs on EU products. The agreement will also enable legal protection for 190 iconic European food and drink products, known as Geographical Indications.
Singapore also agreed to remove obstacles to trade besides tariffs in key sectors, for instance by recognizing the EU's safety tests for cars and many electronic appliances or by accepting labels that EU companies use for textiles, said the commission.
The EU, meanwhile, will remove tariffs on 84% of all Singapore products entering the EU within the first year, and the remaining 16% over a period of three to five years, according to a statement from Singapore's Ministry of Trade and Industry (MTI).
The EUSFTA will provide for liberal and flexible rules of origin (ROOs) for the EU's and Singapore's key exports to each other's markets including automobiles, chemicals, clothing and textiles, electronics, machinery, pharmaceuticals, and petrochemicals, MTI added.
The EUSFTA is the first bilateral FTA where Singapore incorporated enhanced market access for Asian food products made in Singapore, such as har gow (prawn dumplings) and sambal ikan bilis (spicy crispy anchovies). These can enter the EU tariff-free under flexible ROOs, up to a combined quota of 1,250 tonnes annually.
Unnecessary technical barriers to trade for Singapore and EU exporters which sometimes make it difficult for companies to sell their products in different markets will be removed. The provisions in the agreement go beyond the requirements of the World Trade Organization's Technical Barriers to Trade Agreement, and are aimed at reducing costs for exporters, MTI said.
The EU and Singapore have also concluded an investment protection agreement, which can enter into force after it has been ratified by all EU member states according to their own national procedures.
The EU is Singapore's third largest goods trading partner, while Singapore is the EU's largest goods trading partner in ASEAN. In 2018, bilateral trade in goods exceeded SGD114 billion (US$84 billion), comprising SGD49 billion of Singapore exports to the EU and SGD65 billion of Singapore imports from the EU, said MTI.  
The EU is Singapore's largest services trading partner, while Singapore is the EU's largest services trading partner in ASEAN. In 2017, bilateral trade in services exceeded SGD79 billion, comprising SGD39 billion of Singapore exports to the EU and over SGD40 billion of Singapore imports from the EU.
The EU is the largest foreign investor in Singapore, accounting for foreign direct investment (FDI) stock of over SGD376 billion in Singapore in 2017. The robust inflow of EU FDI has also made Singapore the EU's largest investment destination in ASEAN. As of December 2018, there are more than 14,000 EU companies in Singapore.
Singapore's direct investment in the EU stood at about SGD122 billion in 2017, making Singapore the EU's seventh largest foreign investor and largest ASEAN investor.
Singapore and the EU launched negotiations on EUSFTA in December 2009. The negotiations were concluded in October 2014.
Photo courtesy of MTI