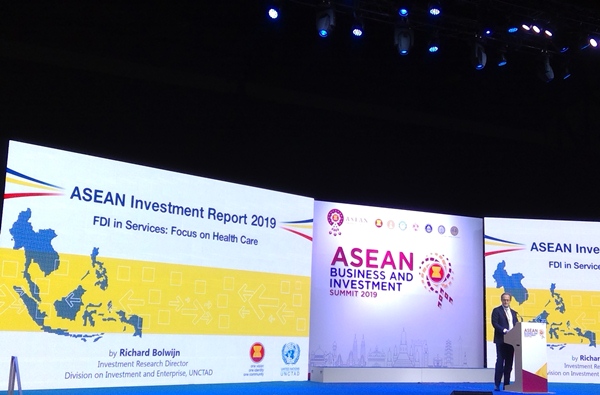 Foreign direct investment (FDI) flows into ASEAN rose for the third consecutive year in 2018, reaching an all-time high of US$155 billion, up from $147 billion in 2017, according to the newly launched ASEAN Investment Report 2019 (AIR).
Moreover, four member states reached new records: Cambodia, Indonesia, Singapore and Vietnam. The region's share of global FDI inflows also increased from 9.6% in 2017 to 11.5% in 2018. This trend is expected to continue given the dynamic industrial developments and improvement of investment and business environment in the region, said the report.
The continued dynamism was driven by a jump in manufacturing FDI, with an increase from $30 billion in 2017 to $55 billion, and a rise in inflows to financial services (from $39 billion in 2017 to $42 billion). Most of the increase was due to rising inflows from the European Union, Japan, Hong Kong, India and the Republic of Korea.
The rise in manufacturing FDI was widespread across ASEAN member states, said the AIR. The majority went to Singapore, Indonesia, Vietnam and Thailand. The growth was part of the gradual shift of production capacity from China and elsewhere to ASEAN, caused by structural factors (the increase in relative labor costs in China) and accelerated by the United States-China trade tensions.
Despite a 3% drop, intra-ASEAN investment ($25 billion in 2018) was still the largest source of FDI, accounting for 16% of inflows. However, this includes some investment originating outside ASEAN that was channelled through Singapore. Singapore remained the largest regional investor, and Indonesia the largest recipient of such investment.
Combined FDI flows to the CLMV (Cambodia, Laos, Myanmar, Vietnam) countries rose by 4% in 2018, to a record level of $23 billion, representing 15% of flows into ASEAN.
"Companies from ASEAN, China and other Asian economies are shifting production to the CLMV countries for cost reasons," observed the report.
FDI from the United States plummeted to just $8 billion in 2018, from $25 billion in 2017, in line with the global fall in US investment due to the 2017 tax reforms. The FDI fall in ASEAN was concentrated in Singapore, where US investment fell from $28 billion in 2017 to just $4 billion in 2018. However, US FDI in manufacturing activities in ASEAN reversed from -$1.2 billion in 2017 to $12.4 billion, with significant increases in Indonesia and Thailand.
Services sector is the largest recipient of FDI in ASEAN. A significant part of FDI in services flows into financial services, wholesale and retail, and real estate activities.
Looking ahead, the report said FDI into ASEAN is expected to continue its upward trend, driven by progress in regional integration, dynamic industrial development with new growth opportunities from production links with and shifts in production from China, and the improving regional investment environment.
"MNEs from many countries (e.g. Australia, Japan and the United States, as well as some from the European Union,) have indicated plans to invest in or expand their operations in ASEAN in the next few years," AIR added.
The AIR is prepared under a technical cooperation arrangement between the ASEAN Secretariat and the United Nations Conference on Trade and Development.
Photo courtesy of ASEAN