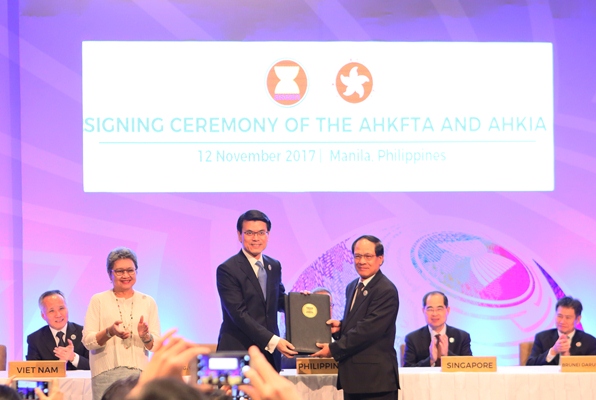 Economic ministers from the Association of Southeast Asian Nations (ASEAN) and Hong Kong signed two free trade and investment pacts on November 12, calling the accords a signal of their commitment towards free trade.
The ASEAN-Hong Kong China Free Trade Agreement (AHKCFTA) and the ASEAN-HKC Investment Agreement (AHKIA) were signed Sunday on the sidelines of the 31st ASEAN Summit in Pasay City, Philippines, three years after negotiations started in July 2014.
The two agreements are expected to enter into force by January 1, 2019, according to a statement from the ASEAN Secretariat.
The trade ministers noted that the AHKFTA is ASEAN's sixth free trade agreement with external partners, after China, Korea, Japan, India, and Australia-New Zealand.
Essentially, the agreements will give ASEAN and Hong Kong better access to each other's markets, create new business opportunities, and enhance trade and investment flows.
The AHKFTA consists of 14 chapters covering broad areas of market access liberalization, trade facilitation, rules to promote confidence in trade, and cooperation aimed at facilitating trade in goods and services in the region.
The AHKIA complements the AHKFTA by covering the protection, promotion, and facilitation of investment.
Philippine Trade and Industry Secretary Ramon Lopez said: "With this signing, we send the strong message to the world of our outward-oriented drive and economic resolve toward cooperation."
He added that the ASEAN-Hong Kong partnership will bring about more job opportunities for the region's people and businesses, particularly small firms.
Hong Kong Secretary for Commerce and Economic Development Edward Yau said at the ceremony: "The significance is not limited to building stronger bilateral trade and economic relations between Hong Kong and ASEAN.
"In the face of protectionist sentiments in other parts of world, these two agreements are in fact a loud and clear vote from all of us here for freer and more open trade," he added.
The ministers noted the growing economic relations between ASEAN and Hong Kong. Based on ASEAN statistics, bilateral merchandise trade in 2016 was valued at US$93.3 billion, a 1.3% increase from $92.1 billion in 2015. Total foreign direct investment flows from Hong Kong to ASEAN amounted to $9.9 billion, a 141% increase from $4.1 billion in 2015.
Hong Kong was ASEAN's sixth largest trading partner last year, while ASEAN was Hong Kong's second largest partner in merchandise trade.
ASEAN's economic ministers also met to discuss the progress of the ASEAN Economic Community (AEC), which envisions an integrated regional market by 2025.
Lopez said that good progress had been made this year in getting the AEC off the ground, and in moving discussions on the Regional Comprehensive Economic Partnership (RCEP) forward.
The RCEP is a proposed FTA between ASEAN and the external partners it already has FTAs with, namely, Australia-New Zealand, China, India, Japan, and South Korea.
Lopez added: "But there are still areas that need to be ironed out if we are to finally conclude the negotiations."