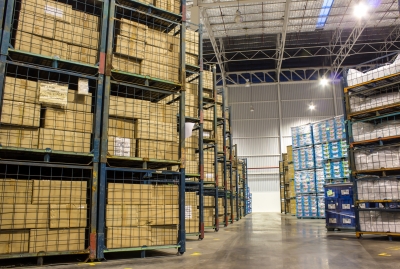 All containerized shipments consigned to and bound for customs bonded warehouses (CBWs) in the Philippines are now undergoing x-ray examination to prevent smuggling.
Customs commissioner Isidro Lapeña ordered the mandatory x-ray inspection of CBW-bound shipments in a memorandum signed on September 22 addressed to all district collectors.
He said the order is part of the Bureau of Customs' (BOC) intensified efforts to curb smuggling and is an additional measure to ensure secure trade.
The order took into consideration the suggestion of Assessment and Operations Coordination Group deputy commissioner Atty. Edward James Dy Buco to put CBW shipments through mandatory inspection.
According to Dy Buco, containerized cargoes imported through the CBW mode and with "red" selectivity status have not been undergoing mandatory 100% x-ray examination, as "the square root rule is instead being practiced" to avoid delay in their release.
The issue, he said, is that "there is a growing concern that the square root rule, while it facilitates trade, may give smugglers an avenue to conduct illicit trade under warehousing, therefore the Commissioner needs to address this concern by issuing a memorandum requiring the mandatory x-ray examination of all containerized cargoes consigned and bound to bonded warehouses."
Based on existing practice, the square root rule is an algorithm used by BOC for inspecting multiple containers in a single shipment of a consignee that are tagged under "red" in BOC's selectivity system. This means, for example, that if 10 containers are subject to inspection, BOC can actually inspect only three for compliance.
"The immediate issuance of this memorandum is necessary to ensure that the customs bonded warehouse shall not be used for smuggling and illegal trade," he said, referring to comments from concerned BOC offices.
The Samahang Industriya ng Agrikultura (SINAG) recently issued a statement urging BOC to run after players (smugglers) preying on unsuspecting CBWs as a cover for their smuggling activities.
SINAG bared reports of players allegedly co-opting CBW warehousemen and security personnel to allow the use of CBWs as consignees for smuggled items, without the knowledge of principals or owners of the merchandise.
Earlier, Dy Buco, in a September 14 memorandum, ordered all district collectors and chiefs of offices to strictly follow a customs memorandum order dated August 4, 1994 to underguard shipments consigned to CBWs.
This, the customs executive said, is to protect the interest of the government. CBWs are generally BOC-licensed warehouses where imported articles are stored without payment of duties and taxes, provided the finished products are re-exported within the prescribed period of time.
Dy Buco said that "no goods declared under customs bonded warehousing shall be released from customs zone unless the assigned customs guard has presented to the gatekeeper or equivalent customs officer a duly signed mission order from the concerned operating division directing him to underguard the goods and acknowledge his custody over the same, prior to the delivery to consignee-CBW."
"In all cases, the assigned customs guard shall faithfully ensure the safe transit of goods to the consignee-CBW until receipt thereof is acknowledged by the warehouseman on the accompanying transfer note or equivalent document in accordance with existing customs laws, rules, and regulations," he added.
Dy Buco's order is in line with the proposed customs administrative order (CAO) governing the clearance process for goods entered under customs bonded warehousing. The CAO, when signed, will act as the implementing rules and regulations of the Customs Modernization and Tariff Act.
The draft CAO, which has already undergone public review, states that "unless otherwise provided, the transfer of imported goods from the customs zone to the warehouse shall be under continuous guarding by customs guard(s) or other means of control and tracking system until delivery at the CBW is acknowledged in the covering transfer note by the customs personnel assigned thereat or by the duly designated accountable officer of the operator." – Roumina Pablo
Image courtesy of photoraidz at FreeDigitalPhotos.net