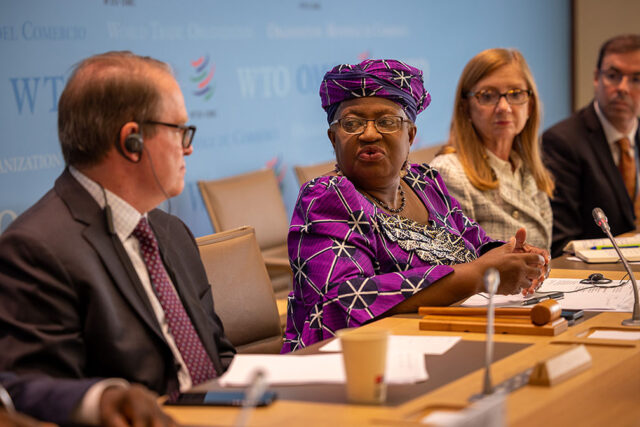 World merchandise trade growth in 2022 revised up to 3.5% from 3.0% forecast in April
Growth is, however, seen slowing in 2H 2022 and remain subdued in 2023
WTO expects growth to slow sharply to 1.0% in 2023 amid multiple shocks
Import demand is expected to soften due to high energy prices stemming from the Russia-Ukraine war squeezing household spending
Growth in world merchandise trade in 2022 has been revised up to 3.5% from 3.0% forecast in April, but should slow in the second half and remain subdued in 2023 as multiple shocks weigh on the global economy, the World Trade Organization says.
WTO economists expect the slowdown to lead to a 1.0% increase in 2023, a sharp downgrade from the previous estimate of 3.4%, the United Nations agency said in a new report.
The WTO expects import demand to soften as growth slows in Europe due to high energy prices stemming from the Russia-Ukraine war squeezing household spending and raising manufacturing costs. The UN agency expects monetary policy tightening in the United States to hit interest-sensitive spending in housing, motor vehicles and fixed investment.
The economists have factored in China's continued struggle against COVID-19 outbreaks and production disruptions that are paired with weak external demand. They also considered growing import bills for fuels, food and fertilizers in developing countries that could lead to food insecurity and debt distress.
The WTO trade growth report comes on the heels of a United Nations Conference on Trade and Development report warning that monetary and fiscal policy moves in advanced economies risk pushing the world towards global recession and prolonged stagnation.
The main points of the report:
World merchandise trade volume is expected to grow 3.5% in 2022 before slowing to 1.0% in 2023 (revised down from 3.4%).
World GDP at market exchange rates will increase 2.8% in 2022 and 2.3% in 2023 (revised down from 3.2%).
Trade and output will be weighed down by related shocks, including the Ukraine war, high energy prices, inflation, and monetary tightening.
Merchandise exports of the CIS region fell 10.4% q-o-q in Q2 while imports plunged 21.7%.
The Middle East will have the strongest trade volume growth of any region in 2022 on both the export side, at 14.6%, and the import side, at 11.1%.
The value of merchandise trade in US dollars was up 17% y-o-y in the second quarter of 2022.
Energy prices surged 78% y-o-y in August while food prices gained 11%, grain prices rose 15% and fertilizer prices spiked 60%.
"Policymakers are confronted with unenviable choices as they try to find an optimal balance among tackling inflation, maintaining full employment, and advancing important policy goals such as transitioning to clean energy," Director-General Ngozi Okonjo-Iweala said.
"Trade is a vital tool for enhancing the global supply of goods and services, as well as for lowering the cost of getting to net-zero carbon emissions."
Okonjo-Iweala said that while trade restrictions may be a tempting response to supply vulnerabilities exposed by the shocks of the past two years, a retrenchment of global supply chains would only deepen inflationary pressures, leading to slower economic growth and reduced living standards over time.
The new WTO forecast estimates world GDP at market exchange rates will grow 2.8% in 2022 and 2.3% in 2023, the latter is 1 percentage point lower than what was previously projected.
In their April forecast, released only weeks after Ukraine war started, WTO economists relied on simulations to generate reasonable growth assumptions in the absence of hard data about the war's impact. As events unfolded, the WTO's GDP projections for 2022 turned out to be broadly correct.
Estimates for 2023, however, now appear overly optimistic, as energy prices have skyrocketed, inflation has become more broad-based, and the war shows no sign of letting up, the WTO said.
The agency said if the current forecast is realized, trade growth would slow sharply but remain positive in 2023. If current assumptions hold, trade growth in 2022 could end up between 2.0% and 4.9%. If the downside risks materialize, trade growth in 2023 could then be as low as -2.8%.
If the surprises are on the upside, however, trade growth next year could be high as 4.6%.
Global grain prices in August were up 15% y-o-y while wheat alone was up 18%. This marks an improvement over April, when grains had increased 33% and wheat had risen 76%.
WTO said potentially more worrying for the future is fertilizer prices, which surged 60% y-o-y in August after nearly tripling since 2020. Reduced fertilizer imports and use could reduce crop yields and increase food insecurity next year.
Exports from North America, Europe and Asia in the first half were broadly in line with expectations. On the import side, the CIS region plunged 21.7% in Q2 2022, probably due to Russia's exclusion from the SWIFT payments system.
North America and Europe recorded stronger than expected import growth in H1 2022, but Asian imports stagnated, registering just 0.7% y-o-y in the first half.