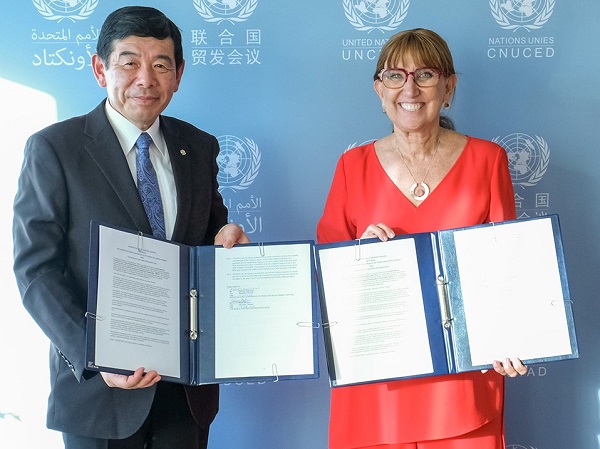 New agreement signed by UNCTAD and the World Customs Organization seeks to boost customs modernization by enabling interoperability of their trade facilitation systems
The MOU signed on October 4 updates the two organizations' previous agreement in 2013
So far, Cambodia and Laos are the only Association of Southeast Asian Nations members that are using ASYCUDA World, UNCTAD's system to expedite goods clearance
A new agreement between the United Nations Conference on Trade and Development and the World Customs Organization will boost customs modernization by enabling interoperability of UNCTAD's Automated System for Customs Data (ASYCUDA) program and various WCO projects.
UNCTAD Secretary-General Rebeca Grynspan and her WCO counterpart, Kunio Mikuriya, signed a memorandum of understanding on October 4 updating the two organizations' previous agreement in 2013, according to an UNCTAD press release.
ASYCUDA, the largest technical assistance program of UNCTAD, helps customs offices in more than 100 countries and territories to expedite clearance of goods.
Currently, 77 WCO members are using ASYCUDAWorld – ASYCUDA's flagship software – as their integrated custom data management system.
"It is worth noting that ASYCUDA systems are fully compliant with the international instruments and standards developed by the WCO," Grynspan was quoted as saying in the press release.
"Our collaboration will be instrumental in the successful delivery of our respective goals and activities," she added.
Mikuriya described the memorandum of understanding as "a robust foundation towards closer cooperation with UNCTAD.
"Customs has long led border modernization and this new partnership is expected to enhance this potential further and bring it onto a new level," Mikuriya was quoted as saying.
In the Association of Southeast Asian Nations, or ASEAN, only Cambodia and the Lao People's Democratic Republic are using ASYCUDAWorld, as most of the members have their own customs processing systems.
The Philippines seeks to be fully compliant with the WCO Data Model, which will be incorporated in the acquisition of the country's New Customs Processing System.
Timor Leste, an ASEAN candidate and member of WCO since 2003, has adopted the ASYCUDA World but the WCO the country's Customs Authority "has not taken any action" although UNCTAD has indicated that ASYCUDA World is compliant with WCO data model.
WCO works to make customs operations more effective and efficient. The Brussels-based entity represents 184 customs administrations across the globe, which collectively process about 98% of world trade.
Through the new agreement, UNCTAD and WCO will help customs authorities better manage risks with information technology, the UN agency said.
To streamline and simplify data collection, the two organizations will develop a harmonized methodology to gather and share customs statistics.
They will join forces to accelerate supply chain digitalization by implementing international standards for data exchange, such as the WCO Data Model.
In addition to increasing customs data quality and accuracy, the collaboration will facilitate trade by improving consistency and predictability related to cross-border data requirements, UNCTAD said.