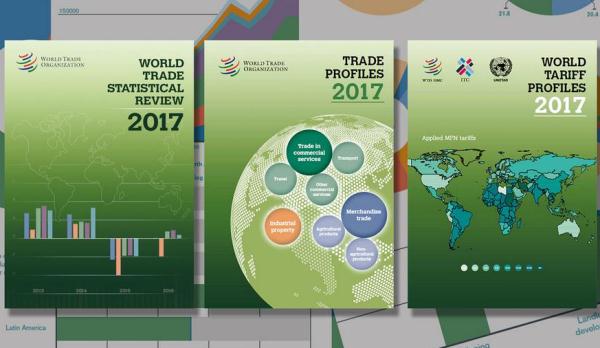 The World Trade Organization (WTO) has issued new editions of its annual flagship statistical publications: the World Trade Statistical Review, Trade Profiles, and World Tariff Profiles.
The World Trade Statistical Review 2017 features an overview of world trade developments over the past ten years, an analysis of world trade in 2016, and an assessment of the trade outlook for 2017. The publication highlights global trends in both merchandise and services trade, revealing which sectors and economies have achieved the strongest growth and which have been hit the hardest.
The publication also looks into trade in value-added terms and the latest trade policy developments, highlighting recent trends in WTO members' use of trade-restrictive and trade-facilitating measures. In addition, it provides information on the participation of developing economies in world trade, Aid-for-Trade financial commitments, and implementation of the WTO's landmark Trade Facilitation Agreement.
Trade Profiles provides a series of key indicators on merchandise trade and trade in commercial services for 196 economies, highlighting the major exports and imports for each economy as well as their main trading partners. For each profile, the data is presented in a handy two-page format, providing a concise overview of global trade.
World Tariff Profiles provides comprehensive information on the tariffs and non-tariff measures imposed by over 170 countries and customs territories. Cross-country comparison tables are followed by one-page profiles for each economy with a detailed breakdown of tariffs by product and the tariffs imposed by major trading partners. The special topic in this year's edition is "export diversification," which analyzes to what extent economies have diversified their exports over time.