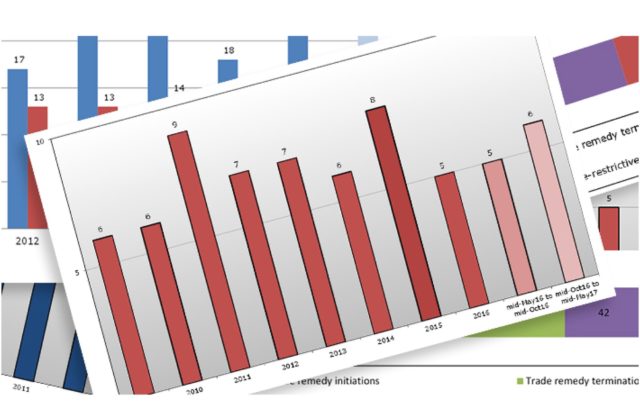 The World Trade Organization's 17th monitoring report on Group of 20 (G20) trade measures shows that trade restrictions in G20 economies have risen at a moderate rate similar to that of previous years, despite the uncertainty facing the global economy.
The report, issued on June 30, calls on G20 governments to show leadership in supporting open and mutually beneficial trade as a driver of economic growth and development.
A total of 42 new trade-restrictive measures were applied by G20 economies during the review period (mid-October 2016 to mid-May 2017), including new or increased tariffs, customs regulations and rules of origin restrictions. This is an average of six measures per month – slightly higher than in 2016 but below the longer-term trend observed in 2009-2015 of seven per month.
G20 economies also implemented 42 measures aimed at facilitating trade during the review period, including the elimination or reduction of tariffs and the simplification of customs procedures. At an average of six new trade-facilitating measures per month, this represents a similar level compared to the previous reporting period (mid-May to mid-October 2016) and is in line with the declining trend observed in 2016.
It is notable that the estimated trade coverage of trade-facilitating measures implemented by G20 economies (US$163 billion) significantly exceeded the estimated trade coverage of trade restrictive measures (US$47 billion). In addition, liberalization associated with the 2015 expansion of the WTO's Information Technology Agreement (ITA) continues to feature as an important contributor to trade facilitation
Commenting on the report, WTO Director-General Roberto Azevêdo said: "The moderation and restraint that we have seen in trade policies shows that the trading system is doing its job in keeping global commerce flowing and resisting protectionism. Nevertheless, there is a high level of economic and policy uncertainty, and therefore we need to remain vigilant. Efforts should be stepped up to avoid implementing new trade-restrictive measures and to reverse existing measures. I urge G20 economies to continue showing leadership in supporting open and mutually beneficial trade, and in further strengthening the rules-based trading system. The G20 should seek to continue improving the global trading environment, including by implementing the WTO Trade Facilitation Agreement, which entered into force in February this year."
The initiation of trade remedy investigations (which the report does not classify as restrictive or facilitating) remained the most frequently applied measure, representing 50% of all trade measures taken during the review period.  However, the amount of trade covered by these is relatively small (US$25 billion for trade remedy initiations and US$6 billion for terminations of duties). The main sectors affected by trade remedy initiations were wood and articles of wood; vehicles; and furniture, bedding material, and lamps. Main sectors where trade remedy duties were terminated were articles of iron and steel; machinery and mechanical appliances; and aluminum and articles thereof.
The G20 economies are Argentina, Australia, Brazil, Canada, China, France, Germany, India, Indonesia, Italy, Republic of Korea, Japan, Mexico, the Russian Federation, Saudi Arabia, South Africa, Turkey, the United Kingdom and the United States, as well as the European Union. – WTO