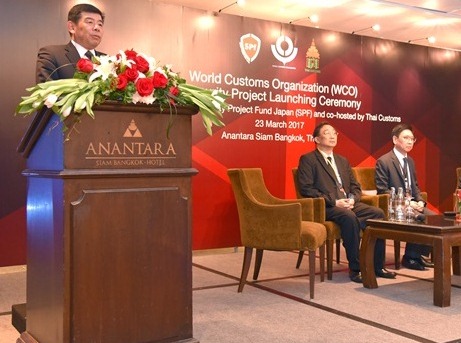 The World Customs Organization has launched the WCO Security Project aimed at supporting administrations in Southeast Asia and the Pacific Islands to respond to security challenges posed by the threat of terrorist attacks.
The new security project follows the WCO Punta Cana Resolution in 2015 and the subsequent adoption of the WCO Global Counter Terrorism Strategy.
The project is being carried out in partnership with the Thai government and with the participation of 17 customs administrations from the Asia-Pacific region. The Japanese government financially supports the project with a contribution of over US$7.25 million.
The program is expected to deliver efficient and effective counter-terrorism measures by forging close cooperation among the various stakeholders, including customs administrations, related law enforcement agencies, and international organizations and businesses.
At launching ceremonies held March 23 in Bangkok, Thailand, WCO Secretary General Kunio Mikuriya said the project is supporting the anti-terrorism initiatives of customs administrations and other relevant stakeholders in the region through measures to further secure the supply chain, including passenger control and commodity control over improvised explosive devices, dual goods and firearms as well as terrorist financing.
"The customs community's ability to counter global terrorism and its impact on international trade will be significantly enhanced with this project," he added.
Vera Urairat, deputy secretary general of the National Security Council of Thailand, highlighted the significance of improving international cooperation on counter-terrorism by sharing information and best practices, as well as through capacity-building activities, and outreach to the relevant stakeholders in the private sector.
Shiro Sadoshima, ambassador of Japan to Thailand, stressed the urgent need to strengthen border controls to counter terrorism, following the Declaration of the G7 Summit held in Ise Shima, Japan in 2016. He expressed hope that this project enables customs administrations to bolster their capacities to address terrorist threats and deepens cooperation among WCO members in the region.
Kulit Sombatsiri, director general of Thai Customs Department, said Thai Customs acknowledges the significance of ensuring security in global trade. He underscored recently established initiatives in support of the WCO Security Project in Thailand. These include the enhanced use of intelligence based on pre-arrival information and data analysis, deployment of non-intrusive inspection technology, and cooperation with the private sector to ensure further transparency, predictability, and integrity of customs.
A panel discussion featuring high-level speakers from the International Criminal Police Organization, International Air Transport Association, and the Counter Improvised Explosive Devices Centre of Excellence, as well as delegates from Indonesia and Pakistan customs, focused on the security threats faced by the region and explored the ways the project could support customs administrations in addressing them.
Photo courtesy of WCO