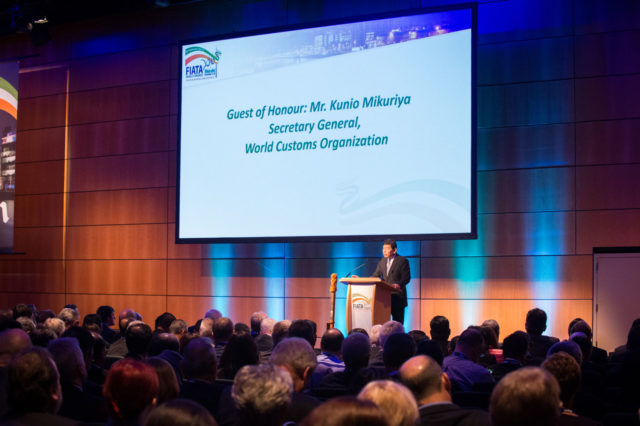 This article is from WCO.
World Customs Organization Secretary General Dr. Kunio Mikuriya, as Guest of Honour, addressed the opening session of the 2016 FIATA (International Federation of Freight Forwarders Association) World Congress held in Dublin, Ireland, from 3 to 8 October 2016.
Zhao Huxiang, President of the FIATA, welcomed delegates and declared the 54th FIATA World Congress open. He highlighted the many challenges faced by members in today's trading environment, especially with the need to comply with the multiplicity of different rules in international trade.
Dr. Mikuriya emphasized the role of the WCO as a standard-setting organization, working with commercial operators to facilitate international trade. The WCO plays an important role in coordinating border management, bringing together the various agencies to reduce delays at borders.
The WCO will play a central role in implementation of the WTO Trade Facilitation Agreement, which is based on the WCO Revised Kyoto Convention. Dr Mikuriya also highlighted the role of Customs and private sector operators in fighting illicit trade.
He added that, as the trading environment constantly evolves, digital trade and e-commerce will continue to impact on how operators in the logistics sector do business. Working together with the regulatory authorities and the standard-setting bodies, as well as trade and industry, can help meet the challenges by strengthening a culture of compliance and integrity.
The Secretary General looked forward to continued cooperation with business operators, and highlighted the important role played by FIATA as a partner.
Tom Thornton, President of the Irish International Freight Association (IIFA), in his welcome speech to delegates, highlighted the important role of FIATA members in international trade. He emphasized the open nature of the Irish economy, and the outreach of Irish business.
John Burton, former Taoiseach (Prime Minister) and EU Ambassador to the USA, spoke of the many challenges faced by the world's economies, with issues such as immigration, countries erecting non-tariff barriers, possible protectionism by the putting in place of new tariffs, and future pension and care issues, given the reduction in the ratio of workers to retirees. In a wide-ranging talk, he suggested that increased trade and the ability to expand trade further offer the possibility of future prosperity. FIATA would have an important role in achieving this objective.
Dr. Mikuriya thanked FIATA for the opportunity to address such a gathering of international delegates, and wished the Congress success.