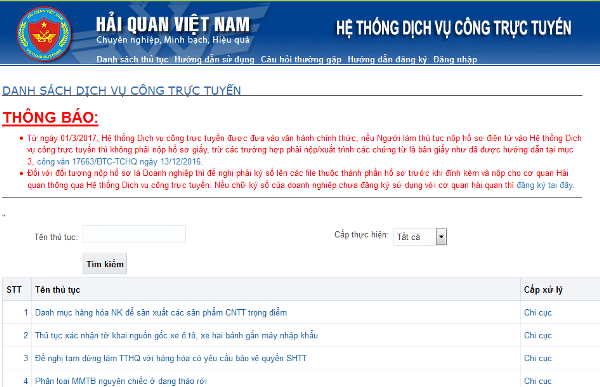 A week after Vietnam Customs' online public service system began formal operations, the portal has received 10 times the number of applications it did in its pilot run, according to the Customs Portal Management Division.
On March 7, 2017, the division said that since the system was officially launched on March 1, it has been running "quite smoothly," and so far records submitted have grown in number 1000% compared to the period of pilot testing.
In the first three days of the website's formal opening, more than 600 records were successfully transferred to the system, located at http://pus.customs.gov.vn. These documents concerned mainly the cancellation of declarations, addition of information to declarations, and requests for tax refunds, according to Vietnam Customs News.
The portal management division, which is under the IT and Customs Statistics Department of the General Department of Vietnam Customs, said 41 procedures are being performed through the public online service platform. These procedures were indicated by various Customs branches as those they carried out the most.
The bulk of applications relate to requests to do the following: cancel Customs declarations, add information to declarations, copy declarations, certify the origin of imported automobiles and motorbikes, classify machinery, process tax refunds, process tax reductions for goods damaged or lost during monitoring, and process tax exemptions for gifts, presents, or samples.
The division added that the public online service system, which operates 24/7, is part of the mandated e-government program of the state and is an important step in efforts to reform and facilitate the way the business community submits applications to Customs.