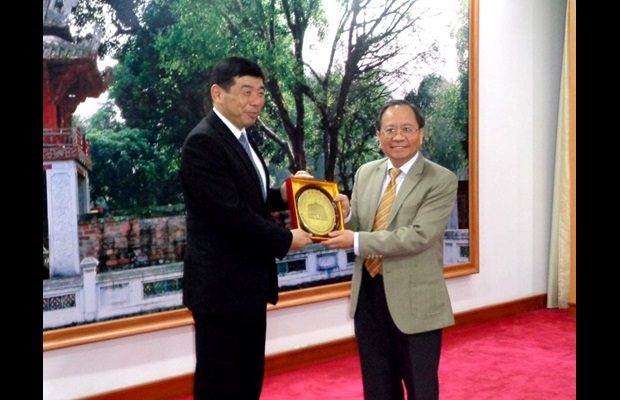 World Customs Organization (WCO) Secretary General Dr. Kunio Mikuriya attended the opening session of the High-Level Meeting for the Euro-Asia Region on Improving Cooperation on Transit, Trade Facilitation and the 2030 Agenda for Sustainable Development held in Hanoi, Vietnam from 7 to 9 March 2017.
The meeting aimed to analyze and assess key issues in transit cooperation and trade facilitation in the Euro-Asia region and offered recommendations on improving transit issues for increased trade potential of both landlocked developing countries (LLDCs) and transit countries.
The WCO chief attended upon the invitation of Gyan Chandra Acharya, Under-Secretary-General and High Representative of the United Nations Office for the Least Developed Countries, Landlocked Developing Countries and Small Island Developing States (UN-OHRLLS).
Phạm Bình Minh, Deputy Prime Minister, Minister of Foreign Affairs of Vietnam opened the meeting. He stated that cooperation between transit countries and LLDCs is crucial to transform LLDCs to land-linked countries. Other high-level speakers including Gyan Chandra Acharya and His Excellency Frederick Musiiwa Makamure Shava, president of the UN Economic and Social Council, underscored the importance of the implementation of the World Trade Organization (WTO) Trade Facilitation Agreement (TFA), including the harmonization of Customs procedures, in the enhancement of the economic prosperity of LLDCs.
In his opening remarks, Secretary General Mikuriya highlighted WCO's efforts to support economic growth of LLDCs and appreciated that the meeting consisted of special sessions focusing on Customs administrations. He announced that the WCO Transit Guidelines would be launched at the WCO Global Transit Conference to be held on 10-11 July 2017. He emphasized that the implementation of the WTO TFA was one of the most important topics to ensure economic development not only for LLDCs but also for transit countries.
In this context, the WCO has already produced a wide range of instruments and tools for trade facilitation such as the Revised Kyoto Convention. The WCO launched the Mercator Programme in 2014 and already delivered around 210 technical assistance missions to more than 70 countries in the past two years. The WCO is committed to strengthening the support for LLDCs by delivering tailor-made capacity building under the Mercator Programme and enhancing cooperation with all stakeholders.
The Secretary General of the WCO took the opportunity to attend a series of bilateral meetings with heads of international organizations, including a meeting with the Secretary General of UNCTAD, Mukhisa Kituyi to discuss ASYCUDA and other matters of mutual interest.
Dr. Mikuriya also met with Do Hoang Anh Tuan, Vice-Minister of Finance of Vietnam and Nguyen Van Can, Director General of the General Department of Vietnam Customs to review the progress of Customs reform and discuss the way forward. Vietnam Customs confirmed its experience in coordinated border management by hosting the National Committee on ASEAN Single Window and Trade Facilitation as well as the National Committee on Anti-Smuggling. – WCO