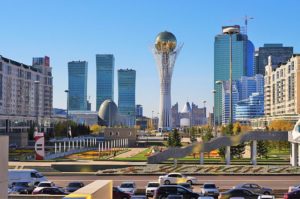 The free trade agreement between Vietnam and the Eurasian Economic Union (EAEU), which officially took effect October 5, 2016, will provide the ASEAN member-country access to a market of more than 180 million people and a combined economy of more than US$2 trillion, according to a Vietnamese government official.
Bui Huy Son, director of the Trade Promotion Department of the Ministry of Industry and Trade, said, "We'll enjoy great advantages because we won't have to compete with our partners. The EAEU has five countries with a total population of 182 million people and a combined economy of US$2.2 trillion. It's a lucrative market for us."
"We have opportunities to attract investment and technology, particularly for mechanical manufacturing, chemicals, and energy. The trade agreement with the EAEU and other free trade agreements will create a closed circle for us to take full advantage of our partnerships during our global integration."
Dang Hoang Hai, head for the European market of the trade ministry, said the milestone is the first Eurasian union free trade deal with a signatory from a non-member state and the first between Vietnam and an economic union.
The free trade deal will ensure duty-free status and tariff reductions for more than 90% of Vietnamese exports, and eventually double the two-way trade turnover to between $8 billion and $10 billion from the current $4 billion, according to a report by state-run VGP News.
The EAEU is composed of Armenia, Belarus, Kazakhstan, Kyrgyzstan, and Russia.
Russia's trade representative to Vietnam said trade turnover generated from garment and textile products will increase by 50%.
A Belarusian diplomat to the Southeast Asian economy said his nation will step up the import of Vietnamese seafood, rice, rubber, tea, coffee, spices, and clothes.
With ample opportunities and modern infrastructure, Belarus can act as a gateway for Vietnamese companies to access the EAEU countries and Eastern European nations, he added.
Bilateral FTA negotiations began in March 2013 and concluded with the signing of the treaty in Kazakhstan in May 2015.
Reduced duties for 9,900 tariff lines
The agreement specifies the duties of both sides in liberalizing trade, services, investments, and personal travel.
Both parties have committed to open their markets to 9,927 tariff lines. With tax reductions for nearly 90% of all tariff lines and 0% tax for 59.3% of all commodities with the enforcement of the pact, Vietnamese businesses will gain a great competitive advantage, said the report.
In the garment and textile sector, 82% of the tariff lines will be reduced and 36% eliminated altogether. This should increase revenue from $700 million to $1 billion in the next couple of years.
Reduction or elimination of duties will apply to 77% of tariff lines for footwear and 95% of tariff lines for seafood in the next 10 years.
Photo by Ken and Nyetta – Central Downtown Astana, Kazakhstan