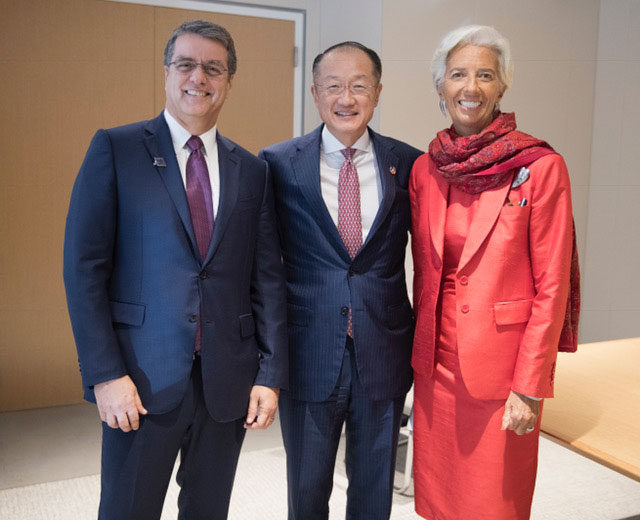 Article from WTO.
World Trade Organization (WTO) Director-General Roberto Azevêdo, International Monetary Fund (IMF) Managing Director Christine Lagarde and World Bank Group President Jim Yong Kim came together on 7 October to argue that the benefits of trade must be spread more widely. They were taking part in a joint event entitled "Making Trade an Engine of Growth for All", held at the IMF's headquarters in Washington D.C. The three leaders also discussed the importance of making the credible and balanced case for trade.
The Director-General said, "While I believe that trade is essential for economic growth and development around the world, I also believe that trade is imperfect. Despite the overall gains it delivers, it can have negative effects in some parts of the economy and those effects can have a big impact on some people's lives. We have a responsibility to reflect on this and to respond.
"We have to work harder to ensure that the benefits of trade are more widely shared. We also need a clearer analysis of the challenges before us so that we can tailor our response. The charge often levelled against trade is that it sends jobs overseas, particularly in manufacturing. Trade can indeed cause this kind of displacement, and we need to respond to it. But actually trade is a relatively minor cause of job losses. The evidence shows that well over 80% of job losses in advanced economies are not due to trade, but to increased productivity through technology and innovation.
"So we need to be clear-eyed about the problems in the job market. No-one could attack technology — trade is a much easier scapegoat. But the wrong diagnosis leads to the wrong medicine. And, when trade is considered the main issue, all too often the suggested prescription is protectionism. This medicine would harm the patient, rather than help him.
"To properly address the real challenges before us we need comprehensive and crosscutting domestic policies that address education, reskilling and support to the unemployed. We also need renewed leadership to keep delivering reforms at the global level. Finally, we need to work harder to make a credible, balanced, powerful argument for trade. We must join forces with partners like the IMF and World Bank to produce new research and new arguments to help make the case. Today's seminar marks the start of this shared effort."
The event was moderated by Shawn Donnan of the Financial Times. Other panellists included Chrystia Freeland, Canada's Minister of International Trade, Douglas Irwin, Professor at Dartmouth College, Lord Mandelson, former European Trade Commissioner, and Ernesto Zedillo, former President of Mexico.