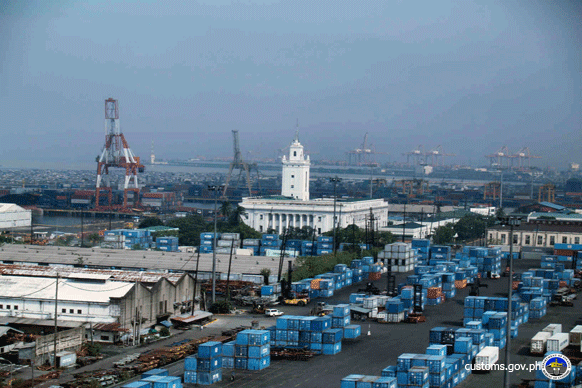 Starting October 12, the Bureau of Customs (BOC) has spared several kinds of shipments from being tagged under the red lane, including those bound for Philippine Economic Zone Authority (PEZA) areas.
The "purpose is to avoid congestion in our ports," Customs commissioner Isidro Lapeña told Asia Customs & Trade in a text message. He noted that a corresponding memorandum will be issued for the new directive.
In addition to PEZA-bound shipments, BOC also exempted perishable/reefer shipments, except those coming from China; and importation of government agencies as well as multinationals from being tagged under the red lane.
Such shipments will also no longer undergo x-ray examination and are automatically ordered for release.
The order was handed down after the team of Chamber of Customs Brokers, Inc. (CCBI) president Atty. Ferdinand Nague on Oct 12 relayed industry fears of port congestion to Lapeña, Deputy Commissioner for Assessment and Operations Coordinating Group Atty James Edward Dy Buco, and head of Risk Management Office Jaybee Cometa.
In a later phone call with Asia Customs & Trade, Nague clarified that the exempt shipments will now be directed to the yellow lane but may still be tagged under red lane if found to have derogatory information.
Lapeña's latest order specifically addresses the long queues of trucks in terminals that resulted from a Sept 29 BOC memorandum jacking up the threshold for container shipments that must go through the red lane from 20% to 80% daily; the same order also mandated all red lane shipments to undergo x-ray inspection. This directive, Lapeña said, was designed to "safeguard the revenue collection efforts of the bureau" and is "part of the intensified campaign against smuggling and other forms of violations of the Customs Modernization and Tariff Act and other related laws."
READ: More PH shipments to go through red lane, all to undergo xray
That same order, however, came with an unintended consequence: queuing of trucks waiting to get their red lane shipments inspected via x-ray.
On October 12–hours before the new order exempting certain shipments from the red lane was released–International Container Terminal Services, Inc. (ICTSI) senior vice president and head of Asia Pacific and Manila International Container Terminal (MICT) Christian Gonzalez confirmed in an email to Asia Customs & Trade that there was queuing of trucks carrying containers subject for x-ray examination at MICT. ICTSI operates MICT, which handles the largest volume of containers in the country.
He said though that MICT was "working with Customs on resolving these issues."
"BOC has been very open to dialogue and to resolving issues but around most of the terminal inside the port we are the ones managing the queues," he said.
Gonzalez noted that the situation "is manageable for now and congestion on the quayside and yard side is not the problem." He added that current utilization of MICT is at 60%.
Reduced truck turnaround
The problem, he said, "is whether the trucks will continue to have the same turnaround efficiency as we have had the last few years."
"This is what we need to watch closely and Customs is aware of these concerns," he said.
Manila South Harbor operator Asian Terminals Inc. told Asia Customs & Trade, in a text message on October 12, that while yard utilization is normal, "there is significant queuing of x-ray-bound trucks at the terminal" and that roadways between stacks have long truck lines. This is because "the rate of customs inspection is not keeping pace with cargo discharge from ships."
It added, "This is causing significant delay on deliveries exiting the terminal. At the end of the day, vessel discharge is a 24/7 business and will always be challenging for boxes to leave the terminal if inspection is not commensurate to volume."
Also in a phone interview right before the latest BOC order was released, CCBI director Samson Gabisan, who also operates a trucking business, said there was growing concern among truckers on the queuing of trucks carrying containers subject for x-ray inspection.
Truck turnaround has been cut to twice or thrice a week instead of five per week since the Sept 29 order was handed down, he told Asia Customs & Trade.
He added that drivers were "physically and psychologically exhausted" due to the long waiting time and unpredictability of stay inside the port. If this situation continues, Gabisan said it might lead to higher truck rates due to lesser availability of trucks and drivers.
CCBI president Nague also earlier told Asia Customs & Trade that the Sept 29 directive might cause a build-up of containers and lead to congestion in ports.
In a statement dated October 12, the Professional Customs Brokers Association of the Philippines, Inc. claimed that trucks now need to wait for 10 hours to undergo inspection, and another three to secure the x-ray image.
Previously, shipments directed to the red lane (high risk) comprised only 20% of the daily total number of cargoes entering the Philippines, while 60% were tagged under the yellow lane (medium risk), and 20% under the green lane (low risk).
Before the September 29 order, shipments tagged under the red lane were subject to documentary review and inspection—the latter either through x-ray or physical inspection. With Lapeña's Sept 29 directive, all shipments directed to the red lane will automatically undergo x-ray inspection. Only shipments that show "suspicious images" on x-ray examination will undergo physical inspection, according to the memo.
The rules on yellow lane shipments (they have to undergo documentary review) and green lane shipments (released with neither review nor inspection) are unchanged. But on August 30, Lapeña suspended the green lane, which means that currently, shipments are directed to either the yellow or red lane.
Shipments of importers accredited with BOC's Super Green Lane, the facility that allows advance processing and clearance of shipments for qualified importers, have not been affected by any of the new orders. – Roumina Pablo