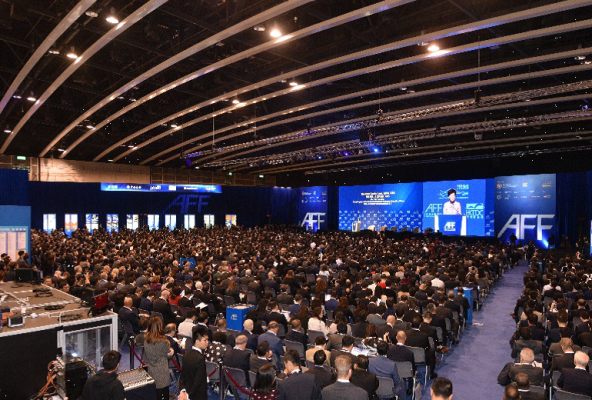 Southeast Asia is the top investment destination for 2019, according to more than 3,300 financial policymakers, financial executives, and business leaders who attended the recent 12th Asian Financial Forum (AFF) in Hong Kong.
Real-time polling conducted through mobile apps at various sessions during the two-day forum organized January 14-15 by the Hong Kong government and Hong Kong Trade Development Council (HKTDC) showed that Southeast Asia leads the countries and regions that are seen to offer the best investment returns in 2019, with 39% of respondents making that choice.
Southeast Asia is followed by China with 35%, United States (16%), Japan (3%), and Western Europe (2%).
When asked about the outlook for the global economy in 2019, 15% of respondents were optimistic, 38% were neutral, while 47% of respondents expressed pessimism, reflecting cautious optimism in the industry towards the overall economic outlook.
As for the sector with the greatest growth potential globally this year, 38% expected it to be healthcare, while 30% thought it would be TMT (telecommunications, media and technology) and e-commerce, followed by green industries or environmental goods and services (19%), financial services (6%), food and agriculture (4%), and real estate and infrastructure (1%).
On the main source of risk for global financial stability, a majority of respondents said that trade tensions between the United States and China were the main source of risk in 2019 (77%), followed by monetary policy normalization (10%), cyber breaches and security risks (7%), and Brexit and fiscal discipline in the European Union (6%).
In his keynote speech, Robert Zoellick, former World Bank president, spoke about the development of Sino-US trade: "Trade negotiations between the US and China need both short-term results and a long-term process to address deeper concerns. Those issues include intellectual property rights, state-owned enterprises and the Belt and Road Initiative," he said.
The poll also asked participants about the biggest challenge to achieving a sustainable future globally. A total of 43% of respondents believed it was due to "people's reluctance to trade higher cost today for better sustainability for future generations."
This was followed by "reluctance by some governments to adopt policies for sustainable development" (23%), "insufficient attention to environmental, social and governance factors in asset markets" (21%), "lack of financially viable green projects" (10%), and "lack of green funding" (3%).
With technology and innovation beginning to create more disruption in the financial industry, participants were asked which developments or technologies were expected to lead to the biggest disruption to the financial industry in 2019.
About 30% of respondents expected it to be artificial intelligence (AI), followed by big data analytics (22%), the rise of virtual banks (21%), blockchain (13%), cryptocurrencies and the rise of initial coin offerings (6%), and regulatory technology (5%).
Photo courtesy of HKTDC