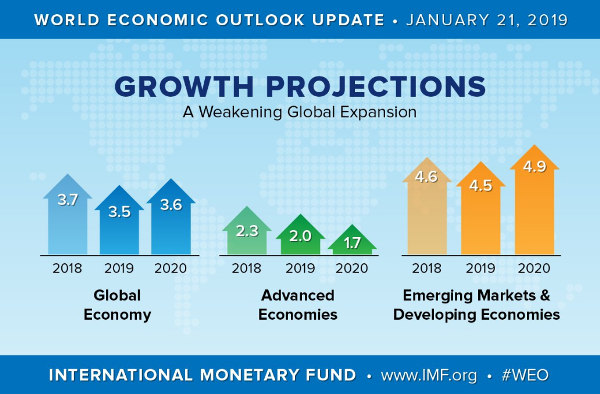 The International Monetary Fund (IMF) has further revised downward its global growth forecast for 2018 and 2019, noting that global expansion is weakening and at a rate somewhat faster than expected.
In its update to the World Economic Outlook, the IMF projects the global economy to grow at 3.5% in 2019 and 3.6% in 2020, which are 0.2 and 0.1 percentage point below last October's projections and below the estimated 3.7% global growth in 2018.
The downward revision in the forecast for 2019 and 2020 reflects the negative effects of tariff increases enacted in the United States and China last year and the softer momentum in the second half of 2018, the outlook said.
The global economy continues to expand, but third-quarter growth has disappointed in some economies, said the IMF. Idiosyncratic factors (new fuel emission standards in Germany, natural disasters in Japan) weighed on activity in large economies. But these developments occurred against a backdrop of weakening financial market sentiment, trade policy uncertainty, and concerns about China's outlook.
"While the December 1 announcement that tariff hikes have been put on hold for 90 days in the US-China trade dispute is welcome, the possibility of tensions resurfacing in the spring casts a shadow over global economic prospects," the IMF said.
Weakness in the second half of 2018 will carry over to coming quarters, with global growth projected to decline to 3.5% in 2019 before picking up slightly to 3.6% in 2020. This growth pattern reflects a persistent decline in the growth rate of advanced economies from above-trend levels—occurring more rapidly than previously anticipated—together with a temporary decline in the growth rate for emerging market and developing economies in 2019.
Specifically, growth in advanced economies is projected to slow from an estimated 2.3% in 2018 to 2.0% in 2019 and 1.7% in 2020, mostly due to downward revisions for the euro area.
For the emerging market and developing economy group, growth is expected to tick down to 4.5% in 2019 (from 4.6% in 2018), before improving to 4.9% in 2020.
In particular, growth in emerging and developing Asia will dip from 6.5% in 2018 to 6.3% in 2019 and 6.4% in 2020. Despite fiscal stimulus that offsets some of the impact of higher US tariffs, China's economy will slow due to the combined influence of needed financial regulatory tightening and trade tensions with the United States. India's economy is poised to pick up in 2019, benefiting from lower oil prices and a slower pace of monetary tightening than previously expected, as inflation pressures ease.
For the ASEAN-5, following an estimated growth of 5.2% last year, the IMF forecasts the economic bloc to grow 5.1% in 2019 and 5.2% in 2020.
Risks to global growth tilt to the downside. An escalation of trade tensions remains a key source of risk to the outlook. A range of triggers beyond escalating trade tensions could spark a further deterioration in risk sentiment with adverse growth implications. These potential triggers include a "no-deal" withdrawal of the United Kingdom from the European Union and a greater-than-envisaged slowdown in China, said the IMF.
To reverse headwinds to growth and prepare for the next downturn, the main policy priority is for countries to resolve cooperatively and quickly their trade disagreements and the resulting policy uncertainty, rather than raising harmful barriers further and destabilizing an already slowing global economy, said the report.
Across all economies, measures to boost potential output growth and enhance inclusiveness are imperatives.
Lastly, given that policy space for countries is more limited than in 2008, multilateral cooperation will be even more important in the event of a sharper decline in global growth.
Image courtesy of IMF