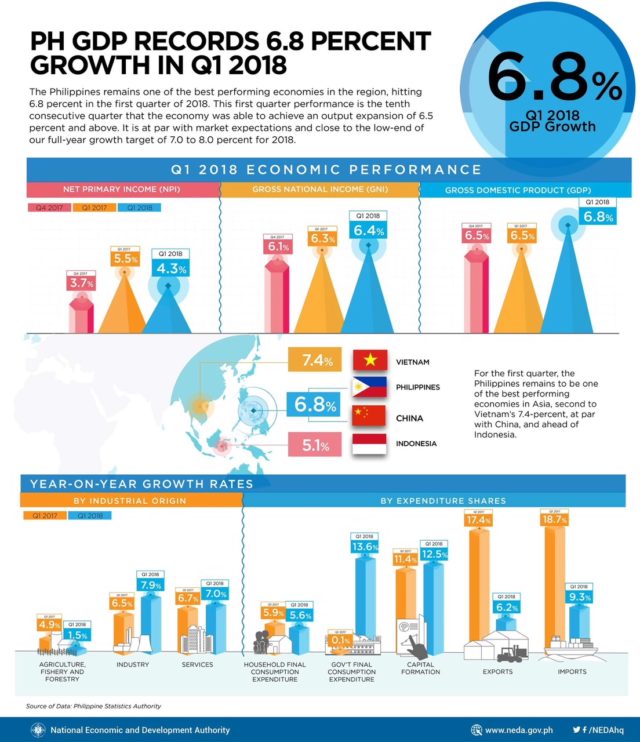 The Philippine economy grew 6.8% in the first quarter of 2018 from 6.4% recorded in the same quarter last year, driven by strong government and household consumption.
This is the tenth consecutive quarter that the country's economy achieved an output expansion of 6.5% or above, according to Socioeconomic Planning Secretary Ernesto Pernia in a press conference on May 10.
The latest figure though is below the government's full-year growth target of 7% to 8% for 2018. It would have been within the target if not for the 4.5% inflation rate booked in the first quarter, Pernia noted.
"Inflation is the spoiler. That's why we need to really focus on inflation," he said.
Still, the Philippines remains one of the best-performing economies in the region during the first quarter, bested only by Vietnam (7.4% growth) but at par with China and higher than Indonesia (5.1% growth), Pernia said.
The upbeat performance in public construction, government consumption, and capital formation indicates "that our reform efforts are bearing fruit and infrastructure development is accelerating, as planned", Pernia, who also heads the National Economic and Development Authority, said.
"However, despite improving labor market conditions, private consumption eased to 5.6% due to rising inflation and interest rates, and weaker consumer confidence."
External demand also weakened significantly with growth in exports of goods easing to 2.9%, after consistent growth averaging 21.1% in 2017, he added.
The manufacturing and construction sub-sectors' continued robust expansion powered the 7.9% growth in industry, pointing to the government's Build! Build! Build! program gaining ground, he said.
The services sector also advanced 7%. Agriculture growth, however, weakened to 1.5%, after recovering from El Niño last year.
"But even as we face challenges, we remain hopeful that at least the lower end of the full year GDP growth range target of 7-8 percent is doable. Domestic demand is expected to increase in view of the recently approved tax reform package, which is deemed to boost income and consumption of tax payers.  However, we need to boost investor and consumer confidence to sustain this growth,"he said.
He acknowledged that rising inflation needs to be addressed, "even if the uptick brought by the temporary effects of TRAIN (Tax Reform for Acceleration and Inclusion) are expected to gradually ease."
He noted that the "more enduring solutions will require structural reforms. We continue to pressure Congress to amend Republic Act 8178 or the Agricultural Tariffication Act. The lifting of Quantitative Restrictions or QRs on rice should be pursued in earnest, as it will reduce the retail price of rice by as much as PhP4.00 – 7.00 per kilogram. This will increase the purchasing power of low-income households, aside from bringing down inflation."
He said the National Food Authority should also be restructured "to rid it of its import monopoly and trading functions, so that it can focus on buffer stocking to meet emergencies. This reform is necessary for NFA to focus on its function of maintaining a national buffer stock for food security, and refrain from rice trading to avoid distorting the market."
Likewise, the rising prices of fresh fish, meat, and vegetables need to be addressed, he said. "As demand continues to rise with a growing population and expanding economy, reducing food inflation is necessary to increase people's purchasing power.
"To ease price pressures in the agriculture sector (i.e. fresh fish, meat and vegetables), we need to promote productivity-enhancing measures. The sector needs efficient postharvest processes, transport and logistic networks. The sector must also have increased access to innovative technologies and credit programs, particularly crop insurance, which could improve resiliency of farmers and fisherfolk from weather disturbances.
"For investors, efforts to reduce the cost of doing business and to ease or lift restrictions on foreign investment will be very important. Easing restrictions in public utilities, retail trade, telecoms, and public procurement are of high priority."