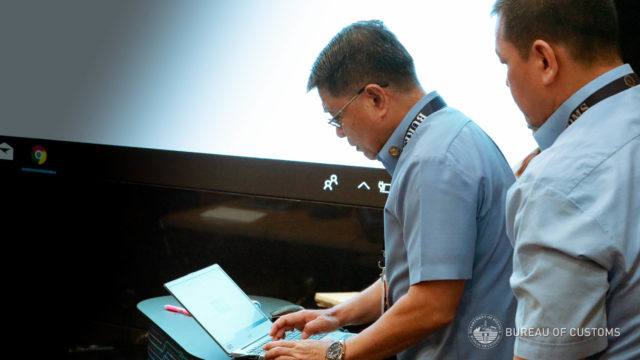 The Philippine Bureau of Customs (BOC) launched on October 16 the Cargo Targeting System (CTS), a World Customs Organization (WCO) enterprise solution, which will allow for identification of high-risk shipments and facilitation of trade. The platform, among others, allows shipping lines to submit the manifest in advance.
In the "warm-up stage", CTS will not yet impose penalties for violations.
CTS allows WCO member-countries to adopt international best practice in cargo risk assessment, thus implementing key parts of the WCO's SAFE Framework of Standards to Secure and Facilitate Global Trade and the Kyoto Convention.
WCO has long provided BOC with the CTS but the system had not been used in the Philippines before now.
Customs commissioner Rey Leonardo Guerrero, in a text message to Asia Customs & Trade, said the customs memorandum order (CMO) providing guidelines for implementing the new system has yet to be issued.
"Meantime, we are already using the system to process information already submitted by cargo carriers and importers for our risk assessment. Sufficient time for compliance will be given before the imposition of fines," Guerrero added.
CTS is a separate system from BOC's Advance Manifest System (AMS) and electronic-to-mobile (E2M) system, both of which also require the advance submission of manifest but for different purposes. AMS, whose implementation is currently on hold, covers manifest declarations for air and sea shipments, while the CTS is mainly for sea. AMS also allows supporting documents to be submitted in PDF, which cannot be done in CTS.
BOC said the advance manifest is a requirement under the Customs Modernization and Tariff Act (CMTA) and is part of BOC's 10-Point Priority Program to boost trade efficiency while ensuring border security.
The customs bureau said CTS will allow for advance profiling of shipments before their arrival at Philippine ports by using the manifest submitted electronically by shipping lines and airlines following mandated timelines for submission.
Assistant commissioner and BOC spokesperson Atty. Vincent Philip Maronilla, in a phone interview with Asia Customs & Trade, said implementation is still in the "warm-up stage" and penalties for violation will only apply once BOC has issued guidelines contained in the CMO.
He noted that the CMO has undergone public consultation and is already being finalized.
For now, carriers are "encouraged" to comply and adapt to the new system.
Maronilla added, however, that BOC as early as now already expects compliance from international carriers since CTS is a system familiar to them, having been implemented by many other customs administrations.
He was confident any minor issues will be addressed during the warm-up stage.
Maronilla said CTS is expected to complement BOC's risk management system and to beef up the bureau's intelligence system to identify and prevent fraudulent practices, especially for regulated shipments.
Intelligence Group deputy commissioner Raniel Ramiro, in a speech during the launch, said he is optimistic the new system will make BOC's processing of shipments more efficient. He added that CTS will greatly improve profiling, risk assessment, anti-terrorism, law enforcement and trade facilitation initiatives of BOC.
CTS overall coordinator and project head Atty. Geoffrey De Vera highlighted the mobile capabilities of the system for accessibility of BOC officers.
Guerrero, in a speech during the launch, said CTS will be a win-win program for all ports and customs stakeholders and an added deterrent to illegal activities.
Some stakeholders' organizations last July were invited for a consultation on the draft CMO that would implement BOC rules and regulations on the CTS.
Leo Morada, chief executive officer of BOC-accredited value-added service provider Cargo Data Exchange Center, Inc. (CDEC), earlier told Asia Customs & Trade in text messages that CDEC has prepared shipping lines for CTS.
He noted that CDEC has been continuously transmitting to CTS, and that technical issues "have been resolved." – Roumina Pablo