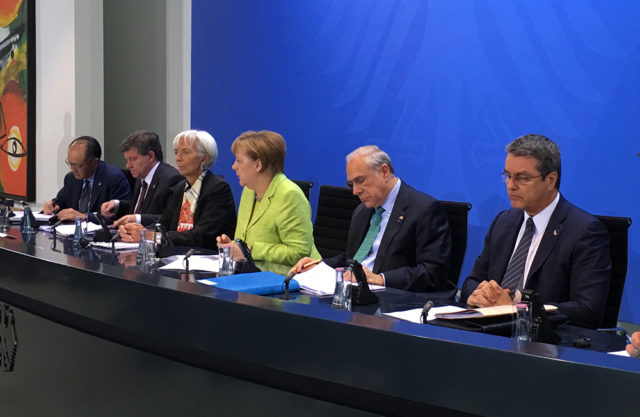 German Chancellor Angela Merkel played host to her annual meeting involving the chiefs of the World Trade Organization, the International Monetary Fund, the World Bank, the International Labour Organization and the Organisation for Economic Co-operation and Development.
"The cooperation of multilateral organizations is of the highest importance for good economic growth. Under the circumstances of globalization and digitalization we need to work together for development of all parts of the world," said Chancellor Merkel.
The Chancellor, who will chair the meeting of G20 leaders in Hamburg on 7-8 July, led a discussion which focused on how to make trade and globalization more inclusive and how to assist those whose jobs have been lost due to automation, innovation, other technological advances and in some cases trade. All the participants meeting in Berlin agreed that what is needed is a mix of policies involving enhanced education and training and social policies that can help bring the unemployed back into the job market.
"We need to recognize that many people out there hold a negative view about globalization and trade. We need to work hard to make sure that the benefits of trade are more widely held," said WTO Director-General Roberto Azevêdo. "But we must not lose sight of the immense gains that trade has brought to people around the world and we must resist protectionist 'solutions' that will not bring back jobs that have been lost and which will in fact hurt many of the citizens we are trying to help." – WTO