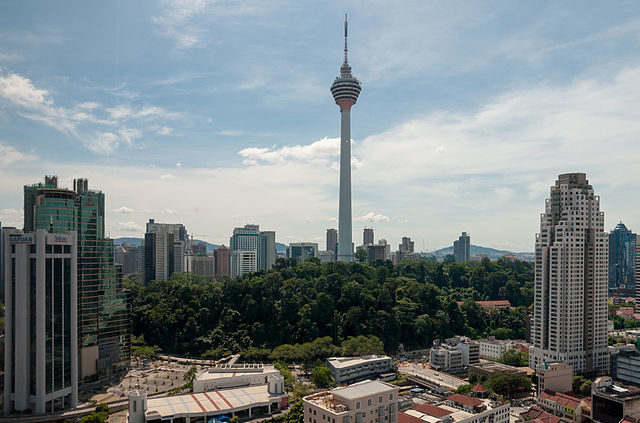 Bank Negara Malaysia has revised down Malaysia's growth forecast this year to 5%, after the country's gross domestic product (GDP) in the second quarter came in sharply below the central bank's expectation of 4.5%, the economy hit by commodity production "shocks."
At her first chairing of a GDP briefing on August 17 after being appointed as the central bank's governor, Nor Shamsiah Mohd Yunus said the first-half GDP growth of 4.9% was lower than expectations, prompting the bank to lower its full-year growth outlook to reflect recent global tensions.
The bank earlier projected Malaysia to grow between 5.5% and 6% this year. However, after posting a GDP growth of 5.9% last year, the country's growth moderated to 5.4% in the first quarter.
The third largest economy in Southeast Asia posted another poorer growth of 4.5% in the second quarter due to commodity-specific shocks in the mining and agriculture sectors.
While the services, manufacturing, and construction sectors showed growth of 6.5%, 4.9%, and 4.7%, respectively, in the second quarter, the agriculture and mining sectors slipped into the red by 2.5% and 2.2%.
According to Nor Shamsiah, growth this year will be supported by private sector spending due to the tax holiday from June to August. The Malaysian government has since June abolished the Goods and Services tax, and will reintroduce the new form of Sales and Service tax in September.
"Private sector activity continued to be the primary driver of growth as both private consumption and investment expanded strongly during the quarter," said Bank Negara Malaysia in a statement.
On the supply side, growth was affected by commodity-specific shocks, it added. Growth in the mining sector contracted due mainly to unplanned supply outages, while the agriculture sector was affected by production constraints and adverse weather conditions. Nevertheless, major economic sectors, notably the services and manufacturing sectors, remained supportive of growth, the central bank said.
Nor Shamsiah said one of the bright spots for the second-quarter growth is higher private investment growth of 6.1% amid continued high-capacity utilization. Private consumption also grew strongly by 8%, supported by continued income growth and better sentiments.
In contrast, public sector investment contracted up to 9.8%, while public investment grew at only 3.1%.
Nor Shamsiah, who sees further escalation of trade tensions and financial market volatility as the two key risks for the economy, indicated that if global trade disputes escalate and affect more products and countries, global growth would be dragged down, affecting the Malaysian economy.
However, as the country's economy is diversified, she believes sustained domestic activities will provide some cushioning effect.
Photo: CEphoto, Uwe Aranas