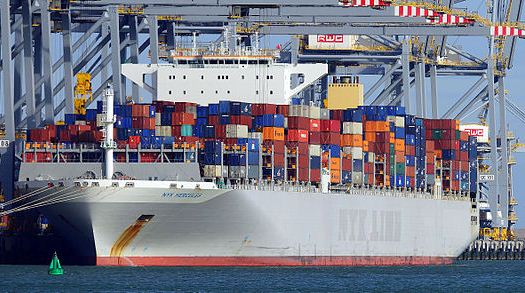 Three major Japanese liners have bared plans to combine container shipping and overseas terminal operations as the industry grapples with overcapacity, weak demand, and plunging revenues, with the new venture seen to become the world's sixth largest box shipping line.
Mitsui O.S.K. Lines (MOL), Nippon Yusen Kaisha (NYK), and Kawasaki Kisen Kaisha (K Line) said in a joint statement October 31, 2016 that the joint venture will unite their shipping operations as well as merge their terminal management businesses outside Japan.
The statement said the three "have agreed, after the resolution by the board of directors of each company held today, and subject to regulatory approval from the authorities, to establish a new joint-venture company to integrate the container shipping businesses (including worldwide terminal operating businesses excluding Japan) of all three companies and to sign a business integration contract and a shareholders agreement."
"Today, we, Kawasaki Kisen Kaisha, Ltd. ('K' Line), have decided to spin off our liner containership business and overseas port business from the corporate entity and to integrate them with those of NYK and MOL, which will spin theirs off as well," added company president and CEO Eizo Murakami in a separate release.
"Thus, the said businesses which have been operated independently by three companies until now will be integrated on an equal footing among the three companies and operated under a new joint-venture company which will be newly founded," continued Eizo.
The merged organization will have a distribution ratio of 38% for NYK and 31% each for the two other carriers. Total contribution to the fledgling company is about JPY300 billion (US$2.86 billion), which includes fleets and share of terminals as investment in kind.
The joint venture is expected to create synergy and economies of scale with a combined vessel fleet totaling 1.4 million TEUs, making it the sixth largest in the market with about 7% of global share.
Looking ahead, the three liners expect to begin setting up the new venture by July 1, 2017 and to launch operations by April 1, 2018, subject to regulatory approvals.
The joint statement described the current conditions of the container shipping industry as marked by "a decline in the container growth rate and the rapid influx of newly built vessels," creating an imbalance of supply and demand "which has destabilized the industry and has created an environment that is adverse to container line profitability."
It further noted that in response, industry participants have sought to gain scale by consolidating through mergers and acquisitions.
"Under these circumstances, three companies have now decided to integrate their respective container shipping on an equal footing to ensure future stable, efficient and competitive business operations," it said.
Photo: kees torn