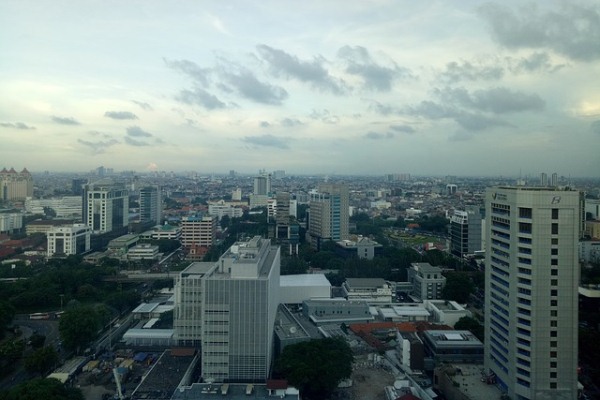 The Indonesian central bank and Singapore's trade ministry have revised estimates of their respective countries' economic growth in 2019.
Indonesia's Bank Governor Perry Warjiyo said May 23 the central bank has revised its gross domestic product (GDP) growth projection to below 5.2% this year, which is still within its initial forecast range of between 5.0% and 5.4%.
"We estimate the economic growth in 2019 will be below the middle point of 5 to 5.4 percent," he said.
Indonesia's economy grew at a slower pace of 5.07% in the first quarter, compared with 5.18% in the final quarter of last year, according to data from the national statistics bureau.
With subdued shipment of products offshore, Warjiyo said the country's GDP growth would find it difficult to accelerate.
Exports, along with consumption and investment, is a major contributor to Indonesian GDP growth. Consumption has been recently stagnant, too, and is expected to be relatively unchanged for months to come. Investment has also logged a slower growth in recent months.
Meanwhile, Singapore's Ministry of Trade and Industry (MTI) on May 21 said it expects GDP growth for 2019 to come in at 1.5% to 2.5%, a narrowing from its earlier prediction of 1.5% to 3.5%.
MTI said the revision takes into account the performance of the Singapore economy in the first quarter, as well as the weaker external demand outlook for the country.
The economy grew by 1.2% year-on-year in the first quarter, slightly lower than the 1.3% growth in the previous quarter.
MTI said the global growth outlook for 2019 has weakened further, and remains clouded by uncertainties and downside risks. These risks include the escalation of the U.S-China trade conflict, the slower-than-expected growth in the Chinese economy that could be precipitated by further tariffs from the U.S., and the delay in Brexit until October 31, 2019, which has prolonged economic uncertainty and could further weigh on consumer and business sentiments in the UK and EU.
Against this challenging external economic backdrop, key outward-oriented sectors in the Singapore economy are expected to slow this year, said MTI.
Photo: akuanakindonesia15