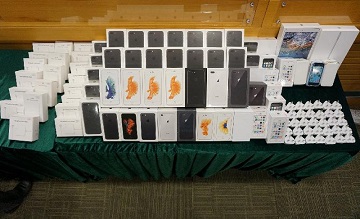 Hong Kong Customs recently conducted a territory-wide operation to combat the sale of suspected counterfeit smartphones and accessories as well as the suspected engagement of unfair trade practices in selling smartphones.
During the operation staged April 21, 14 locations including 12 shops and two storage places were raided. Seized were 100 smartphones with suspected false trademarks or false trade descriptions applied as well as about 3,400 suspected counterfeit smartphone accessories, the seizure having a total estimated market value of about HKD1.5 million (US$191,115). Eighteen men and a woman were also arrested.
Customs said it earlier received information alleging that some phone repair shops sold suspected counterfeit smartphone accessories, and that some shops engaged in unfair trade practices by selling old smartphones as brand-new products, or selling parallel-imported smartphones as authorized products.
During the operation, Customs also cracked down on a syndicate involved in the export, supply, and distribution of suspected counterfeit smartphones and accessories. A total of 64 suspected counterfeit smartphones and 330 suspected counterfeit smartphone accessories were seized at the storage places in Sham Shui Po and Tsing Yi. A 32-year-old male leader and a 34-year-old female member of the syndicate were arrested.
Investigation is ongoing and more people may be arrested, the agency said.
The head of Intellectual Property Investigation Bureau, Catherine Yip, said the successful detection of the case was attributed to the reporting by members of the public and the full assistance from trademark owners.
"Customs will continue with stringent enforcement and spare no effort in combating activities in connection with the sale of counterfeit goods and unfair trade practices," Yip said.
In order to further facilitate reporting of crime information by members of the public, Customs said it would put in place a dedicated crime-reporting email account and provide a more comprehensive and convenient reporting means on April 23.
The head of Intelligence Bureau, Kitty Poon, said the number of reports Customs has received from the public has risen by 21%, from 31,994 in 2015 to 38,819 in 2017. Of all the reports received, the proportion received through email has increased from 30% in 2015 to almost 40% in 2017.
"The newly introduced email account is manned by dedicated Customs officers and prompt follow-up actions will be taken upon the receipt of information via the channel, providing members of the public a more convenient reporting means," she said.
She added that in order to make it more convenient for informants to make reports through electronic means, an edit function will also be added simultaneously to the crime report to facilitate informants' putting in of information directly into the form.
Photo courtesy of Hong Kong Customs