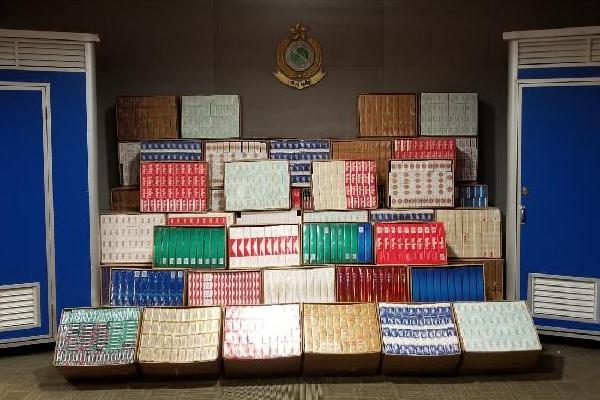 In 2018, Hong Kong's Customs and Excise Department detected a total of 22,553 cases with 20,019 people arrested, up 38% and 40%, respectively, year-on-year, with total seizure value down by 4% to HKD1.22 billion (US$155.5 million).
About 60% of the cases related to illicit cigarettes, followed by infringing and dangerous drug cases, according to the agency.
Dangerous drugs cases
There were 919 drug cases detected last year, a 3% decrease from 2017. A total of 393 arrests were made and 1,352 kilograms of drugs seized, representing increases of 21% and 22%, respectively.
Major seizures were gamma-Butyrolactone (343.8 kilograms, a 1.8-fold increase), cocaine (255.4kg, an increase of 83%) and cathinone (bath salts) (192.6kg, a decrease of 45%). While the total cannabis seizure fell 38% to 142.6kg, seizures at the airport jumped 69% to 132.4kg.
Seizures at the airport rose 47% to 1,059kg, accounting for about 78% of total drug seizure in the year. Of these, 420kg were made at the air cargo terminals, a 59% increase from the 2017 figure.
Six big drug cases, each valued at more than HKD10 million, were detected in 2018. About 33kg of methamphetamine and 176kg of cocaine were seized in the six cases. In one case, the biggest ever in-town cocaine seizure by the department, 79kg of the drug with a market value of about HKD80 million were intercepted.
Smuggling cases
In terms of smuggling, overall, 216 cases of importing or exporting unmanifested cargo were detected in 2018, up 4% in number but down 21% in value to HKD417 million year-on-year. As with 2017, there were 216 arrests made.
Mainland-Hong Kong cases accounted for around 86% of the total number, a surge of 5% from 2017. The value of electrical and electronic goods seized also surged 70% in 2018 to HKD175 million. Sea smuggling seizure value increased 1.1-fold to HKD179 million.
A total of 270 cases valued at around HKD26 million were detected from the air cargo channel, representing increases of 17% and 19%, respectively.
In the interception of endangered species, meanwhile, 745 cases were detected, in which 528 people were arrested and items totaling more than 270,000kg were seized, representing increases of 72%, 1.1-fold and 3.3-fold, respectively. The value of the items seized dropped by 48%. Excluding the record ivory seizure made in 2017 in which around 7,000kg of raw ivory tusks were seized, the total seizure weight rose 3.8-fold while overall value remained at the same level.
Nineteen big cases were detected in 2018, each with a value of more than HKD5 million. While the aggregate value of these cases reached HKD246 million, commodities valued at HKD34 million and HKD22 million were seized, respectively, in two single cases.
Illicit cigarette ops up 71%
On the anti-illicit cigarette operation front, detected cases rose 71% to 13,582 cases in 2018, with 53.4 million cigarettes involving excise duty of HKD102 million seized, representing a 12% drop from 2017. A total of 13,040 people were arrested, up 63% from the 2017 level. Due to a more stringent strategy, in-bound mega cases (involving 500,000 cigarettes or above) dropped 52% to 14, resulting in 19.5 million cigarettes seized, said customs.
On intellectual property rights protection, 951 infringing cases were detected and 725 arrests made, representing annual increases of 4% and 1%, respectively. Infringing items seized rose by 23% to 2 million while the seizure value was around HKD104 million, down 12% from 2017. Major seizures included clothes and accessories, pharmaceutical products, electrical and electronic goods, shoes and watches.
In 2018, the department detected 207 cases of Internet infringement. The total seizure value jumped to HKD3.5 million, a 35% increase from 2017. In particular, online piracy cases detected jumped 1.5-fold to 20 cases.
Forty-five cases of using Internet platforms by physical shops to solicit for business were detected, which was an increase of 67%. The seizure value also rose 18% from HKD1.73 million in 2017 to HKD2.05 million in 2018.
The Big Data System has been running well since its operation began in 2017. In 2018, the system detected 38 infringing cases, accounting for 20% of the Internet infringing cases. This contributed to the seizure of 3,400 counterfeit items, which constituted 61% of the seizures from Internet piracy cases.
Apart from the arrests and seizures made, one mastermind and five members of an organized counterfeiting syndicate arrested in 2016 were sentenced to 11 to 26 months' imprisonment in 2018. During the operation, over 12,000 items of counterfeit goods with an estimated market value of over HKD5 million were seized. More than HKD1.5 million worth of crime proceeds were also confiscated.
Photo courtesy of Hong Kong Customs and Excise Department