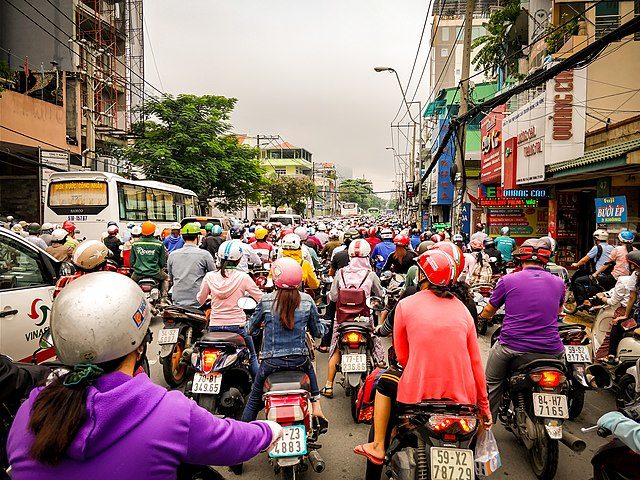 Foreign-invested enterprises have become an important driving force in Vietnam's economic development and international integration 30 years after the Southeast Asian country opened itself up to foreign direct investments (FDIs).
Statistics from the Import-Export Department under the Ministry of Industry and Trade show that from only US$10 billion in 1988 when Vietnam started absorbing FDIs, the country's total export revenue is expected to hit US$225 billion in 2018, reported Vietnam News Agency.
Notably, an annual average rise of 17.6% has been recorded in Vietnamese exports in the period 2011-2015, much higher than the target set under the country's import-export strategy to 2020 with a vision to 2030 as well as the goal of 12% set out at the 11th Party National Congress.
The FDI sector has played a key role in maintaining the export growth of the country, said the report.
Tran Thanh Hai, deputy director of the Import-Export Department, said that six years ago, the export value of domestic firms was higher than that of FDI enterprises, but now exports of FDI enterprises are triple those of their Vietnamese peers.
FDI firms currently make up 20% of the total state budget collection, 10 times higher than the figure in 2000. In particular, over 50% of Vietnam's total industrial production value comes from FDI firms.
But while FDI businesses have made a giant step in just a short span of time, their influence on domestic companies remains modest, said Hai.
Hai pointed out that South Korea's Samsung Group is producing 40% of its smartphones in Vietnam, with export revenue of $50 billion in 2017, equivalent to the combined export turnover of all domestic enterprises.
However, less than 30 domestic firms have been able to join the production chain of Samsung in Vietnam, Hai noted.
At the same time, tax evasion and transfer pricing can still be found in some FDI businesses, while many FDI projects have damaged the environment.
Moreover, although due attention has been paid for years to ensure the transfer of technologies from FDI enterprises to local entities, the results have yet to reach expectations.
Experts predict that in 2018 and succeeding years, Vietnam will still be an attractive destination for foreign investors. However, they said there is need for more effort to maintain the bright prospects of the country in terms of attracting foreign capitalists.
Photo: Boris Laporte