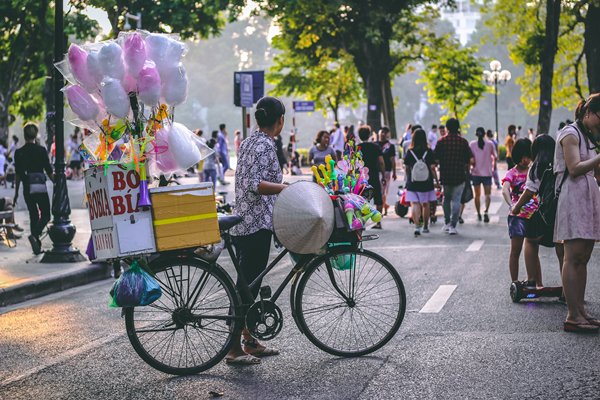 Against an increasingly challenging external environment, East Asia is projected to grow at a more moderate pace of 5.2% in 2020 and 2021, with downside risks to the growth outlook intensifying, according to a new report from the United Nations Conference on Trade and Development (UNCTAD).
In 2019, regional GDP growth slowed considerably to 5.2% from 5.7% the previous year, the World Economic Situation and Prospects 2020, the United Nations' flagship publication on expected trends in the global economy, said.
"Softening global demand and protracted trade tensions have dampened the region's export growth. As policy uncertainty continues to weigh on business confidence, private investment is likely to remain subdued," it added.
Nevertheless, the easing of monetary policies and more expansionary fiscal stances across many East Asian economies will mitigate the effects of external headwinds on domestic demand.
In China, GDP growth is projected to moderate gradually from an estimated 6.1% in 2019 to 6.0% in 2020 and 5.9% in 2021 as the protracted trade dispute with the United States is expected to continue to dampen export growth while also weighing on consumer and business sentiment.
Following a sharp decline in exports and investment, growth in the Republic of Korea is projected to experience a modest rebound, rising from 2.0% in 2019 to 2.3% in 2020. The government's planned 8% increase in fiscal expenditure for 2020 will spur domestic demand but export growth will likely remain sluggish amid the slowdown in the electronics cycle and lingering trade tensions with Japan.
In Singapore, the economy almost stagnated in 2019, as manufacturing output contracted sharply during the year, buffeted by strong external headwinds. Looking ahead, GDP growth is expected to pick up from 0.4% in 2019 to 1.2% in 2020 as domestic demand is expected to remain resilient. The weakness in the electronics sector is likely to persist, dampening export-oriented industries.
Meanwhile, growth in Taiwan is projected to remain relatively steady at 2.5% in 2020, supported by resilient private consumption and strong infrastructure spending. Business investment is also likely to remain solid, supported by policy initiatives to encourage the reshoring of manufacturing production. While overall export growth moderated in 2019, shipments to the United States grew at a double-digit pace, suggesting that the economy could benefit from further demand substitution going forward.
In Hong Kong, the economy contracted by 1.0% in 2019, as the negative effects of trade tensions were compounded by local social unrest. But economic activity is expected to recover, with GDP projected to expand by 1.6% in 2020, boosted by recent fiscal measures, which include tax reliefs. Projections, however, are contingent on domestic headwinds subsiding in the outlook period.
Despite significantly weaker export performance, growth prospects for the large economies in the Association of Southeast Asian Nations (ASEAN) remain favorable, underpinned by resilient domestic demand.
Following a slight deceleration in 2019 growth, the Philippines is expected to rebound from 5.9% in 2019 to 6.2% in 2020 as spending on infrastructure projects picks up and private consumption is expected to remain robust.
GDP growth in Malaysia is expected to moderate slightly from 4.5% in 2019 to 4.3% in 2020, growth driven largely by household spending. Public investment is expected to pick up following the resumption of large transport infrastructure projects. Nevertheless, since Malaysia is deeply integrated into the global and regional value chains, a further deterioration in the external environment poses a key downside risk to its growth outlook.
In Thailand, GDP growth slowed considerably to 3.0% in 2019 amid broad-based weaknesses across most economic sectors. As some of these factors dissipate, the economy is projected to grow at a slightly stronger pace of 3.1%. The recently announced fiscal stimulus package will also provide some support to domestic demand.
Following slower growth of 5.0% in 2019, GDP growth in Indonesia is projected to pick up slightly to 5.1% in 2020. Private consumption is expected to remain robust, and infrastructure spending is expected to strengthen over the outlook period. Planned reforms to improve the business environment will support increased FDI inflows going forward.
Meanwhile, growth prospects for Vietnam remain strong, with the economy projected to expand by 6.6% in 2020. Private consumption is expected to remain solid. "The economy is also benefiting from increasing FDI inflows due in part to investment diversion related to the trade conflict," the report said.
Despite formidable external headwinds, growth prospects for LDCs in the ASEAN region remain favorable. Buoyed by resilient domestic demand and strong FDI inflows, the economies of Cambodia, Lao People's Democratic Republic and Myanmar are projected to sustain strong GDP growth of between 6% and 7% in 2020 and 2021.
Nevertheless, the region's LDCs continue to face serious structural impediments, in particular poorly diversified economic structures and critical deficits in essential infrastructure, making it extremely difficult for them to boost productivity levels and enhance competitiveness, the report said.
Risks to the growth outlook in East Asia are tilted to the downside. Continued high uncertainty surrounding global trade policies would prolong weaknesses in the external sector but could also generate significant spillovers to the domestic economy. Notably, economies that are deeply integrated into global value chains are highly vulnerable to a further escalation of trade tensions.
Photo by Duy Thanh Nguyen on Unsplash