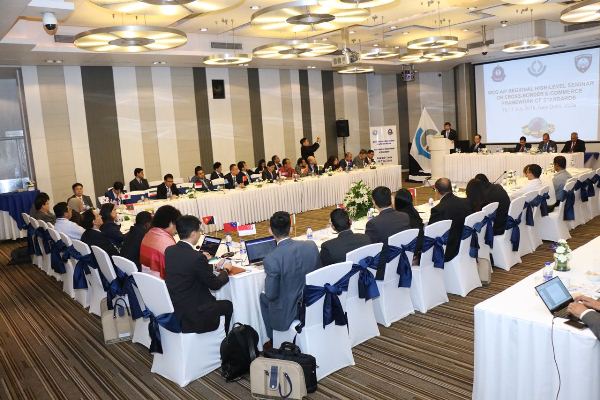 The exchange of advance electronic data and use of cutting-edge technologies are among the key focus areas identified by customs administrations in the Asia-Pacific to manage e-commerce in the region effectively, according to the World Customs Organization (WCO).
This emerged during the first event organized for the launching of the Framework of Standards on Cross-Border E-Commerce after its adoption by the World Customs Organization (WCO) Council last month. The high-level regional seminar on e-commerce was held July 16 and 17 in New Delhi, India.
In welcoming the delegates, Pranab Kumar Das, member of the Central Board of Indirect Taxes and Customs of India, highlighted the need for a robust legal and IT infrastructure for a fair and sustainable development of e-commerce. He further suggested some measures for effective and integrated risk management, along with the extensive use of technology to effectively address the challenges stemming from growing cross-border e-commerce.
In his keynote address, WCO Secretary General Dr. Kunio Mikuriya said, "The WCO stands ready with the global standard on Cross-Border E-Commerce and a basket of associated tools to support its Members and stakeholders with capacity building activities in the area of E-Commerce."
The seminar brought together over 50 high-ranking representatives from 26 customs administrations of the region to deliberate on the newly adopted Framework of Standards on Cross-Border E-Commerce that would provide a global baseline standard for developing legislative and operational frameworks for cross-border e-commerce.
The framework of standards "contains 15 standards that are concise, progressive and focused on the e-commerce environment, with a view to providing pragmatic, fair, and innovative solutions whilst taking into account the diverse expectations and concerns of Customs administrations and stakeholders," stated WCO earlier.
These standards pertain to the legal framework for advance electronic data; use of international standards for advance electronic data; risk management for facilitation and control; use of non-intrusive inspection technologies and data analytics; simplified clearance procedures; expanding the concept of Authorized Economic Operator (AEO) to cross-border e-commerce; and models of revenue collection.
They also cover de minimis; prevention of fraud and illicit trade; inter-agency cooperation and information sharing; public-private partnerships; international cooperation; communication, public awareness and outreach; mechanism of measurement; and exploring technological developments and innovation.
The seminar focused on multiple facets of cross-border e-commerce that included its exponential growth, benefits, opportunities, challenges and related solutions. In particular, the participants highlighted the need for the exchange of advance electronic data between e-commerce stakeholders (e.g. e-platforms/marketplaces, postal operators, and express service providers) for a dynamic risk management approach attuned to the e-commerce context.
They also saw the importance of the use of cutting-edge technologies such as data analytics, artificial intelligence, machine learning, and blockchain for enhanced facilitation, effective risk management (including security and product safety), and efficient revenue collection.
Some other key suggestions included identity management of the actual buyer and seller, the exchange of order data, payment data and logistics data, legal arrangements for data sharing including data privacy and protection, and simplified return and refund procedures. These suggestions will be considered by the WCO when further enriching the framework of standards with technical specifications and additional resource guidance.
Photo courtesy of WCO