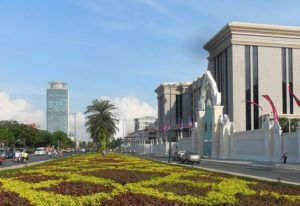 Cambodia's economy is expected to remain robust, boosted by increased exports of footwear and newly emerging exported products, as it appears to be on the edge of moving up the manufacturing value chain.
But growth is projected to ease slightly to 6.8% in 2017 and reach 6.9% in 2018, compared with 7.0% in 2016, says the World Bank in its latest Cambodia Economic Update launched November 22.
The country's exports of footwear and newly emerging exported products like electrical machinery, equipment, and auto parts have picked up, partly offsetting the growth deceleration of traditional exports like clothing and other textile products.
While exports of clothing and other textile products have moderated, the share of the newly emerging exported products (excluding footwear) rose to 8.7% of total exports in 2016, up from less than 2% in 2010—"indicating that Cambodia is at the cusp of climbing up to the next stage of manufacturing value chains," said the report.
"Cambodia appears to be on the verge of climbing up the manufacturing value chains—from garments to electronics and auto parts—and that is a very encouraging development," said Inguna Dobraja, World Bank country manager for Cambodia. "With deeper structural reforms that address high electricity and logistics costs as well as skills gaps, Cambodia can boost investment, export diversification, and move closer to its development goals."
In 2018, real growth is projected to remain strong, expanding at 6.9%. It will continue to be propelled by export diversification and underpinned by healthy inflows of foreign direct investments. Rising government spending including public investment is also expected to drive growth.
The recovery in global trade is expected to strengthen. There are promising signs of diversification in the manufacturing sector, with the entry of high-value-added manufacturers, especially for electrical appliances and components, and auto parts. Relatively high electricity and logistic costs, however, remain key bottlenecks.
The tourism sector is recovering, largely due to ongoing efforts to attract international tourists, especially from China with new regional direct flights and the "China Ready" initiative. The China Ready initiative represents Cambodia's effort to capitalize on the rapid growth in Chinese inbound tourism. The five-year initiative targets 2 million Chinese tourists per year by 2020.
A possible slowdown of the regional economy, especially China, and potential election-related uncertainties, however, pose downside risks to the outlook.
The Cambodia Economic Update is a biannual report that provides up-to-date information on macroeconomic developments in Cambodia, both in the short and medium term.
Photo: Milei.vencel