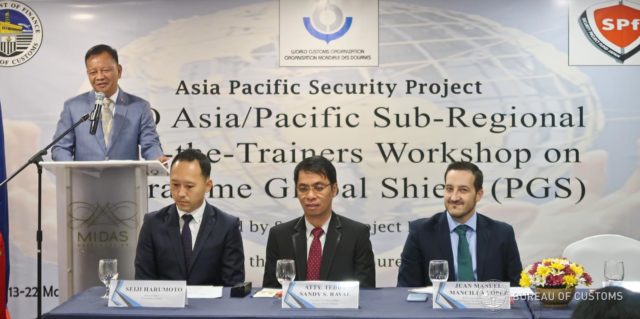 The Philippine Bureau of Customs (BOC) co-hosted the World Customs Organization (WCO) Sub-Regional Train-the-Trainers Workshop on Programme Global Shield (PGS) that started on March 13.
The PGS is among the international efforts of WCO to interdict illicit diversion and trafficking of chemical precursors, detonators, and transmitting devices used by terrorists and other felonious organizations in manufacturing improvised explosive devices (IEDs).
Representatives from Southeast Asian and Pacific countries such as Bangladesh, Cambodia, Indonesia, Laos, Malaysia, Myanmar, Thailand, and Vietnam are currently in the Philippines for the two-week-long workshop.
Officials and representatives from the BOC, Armed Forces of the Philippines (AFP), and Philippine National Police (PNP) are also part of the workshop, BOC said in a statement.
The use of chemicals and explosive materials is rampant among terrorist groups because precursor chemicals needed to manufacture IEDs are inexpensive and widely available, BOC noted.
The objective of the PGS workshop is to provide customs officers the knowledge and skills to detect and handle precursor chemicals. The program is also focused on promoting cooperation among customs and police administrations against illegal trafficking and diversion of IEDs.
PGS also continues to raise awareness of the emerging threat posed across the globe by IEDs.
Meanwhile, Customs Commissioner Isidro Lapeña expressed his support for the WCO's campaign against IED threats by saying that national security and border protection remains a priority of BOC. ]was his statement made during the opening of the workshop?[
"In the face of challenges and menace of terrorism, safeguarding our borders is a shared responsibility," Lapeña said.
The customs chief was accompanied by Deputy Commissioner Teddy Sandy Raval of the Enforcement Group, BOC's arm in securing the national border against illicit trade.
PGS is co-hosted by BOC and sponsored by the Security Project Fund of Japan.
PGS resource trainers include WCO assistant project manager for security program Juan Manuel Mancilla Lopez, WCO accredited PGS trainer Chandra Prakash Goyal, and PGS technical expert Estheshamul Hoque.