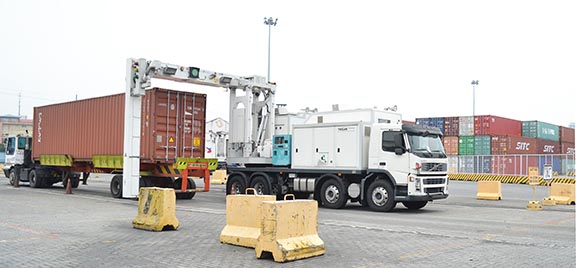 The Philippine Bureau of Customs (BOC) is set to acquire 56 x-ray machines as part of its program to eventually subject all incoming container shipments to x-ray inspection to further intensify its anti-smuggling drive.
"We are getting additional x-rays and I intend that all shipments getting into the country will pass through these x-rays," Customs Commissioner Isidro Lapeña said in a press briefing on April 11.
The customs chief said the plan will discourage individuals from "short-changing the government".
He earlier said subjecting shipments to x-ray inspection has proven useful in the agency's anti-smuggling drive.
Asked by Asia Customs & Trade if the plan for 100% x-ray scanning could cause port congestion, Lapeña replied in the negative, noting that the machines to be acquired can perform the scanning quickly and even scan trucks running at 20 kilometers per hour.
In the US, the Customs and Border Protection (CBP) subjects a shipment to x-ray inspection only when it's put on hold and does not hit a certain "score" in CBP's targeting system. X-ray inspection is just one of three types of exams that the CBP applies to shipments placed on hold.
Some US lawmakers have proposed that CBP conduct 100% scanning of containerized cargoes; CBP has said this would be costly for importers and will slow down port operations.
Currently, the volume of shipments subjected to x-ray inspection depends on the utilization of the terminal, Lapeña said. If terminal utilization is low, then more shipments are tagged under "red lane" and subjected to x-ray inspection. If utilization is high,
BOC makes adjustments and tags more shipments under "yellow lane," which only requires a review of shipments' documents.
Lapeña noted the "green lane," which does not require documentary review or x-ray inspection, remains suspended.
The customs chief said they are acquiring top-of-the-line x-ray machines that can capture three-dimensional images. A portion of BOC's additional P1.4 billion budget for 2018 will be allotted for procuring the 56 x-ray units.
Former customs chief Alberto Lina had also suggested x-ray inspection for all containers right after unloading from the vessel, but acknowledged a need to change the setup inside the terminals if such system were to be adopted.
Lapeña said the new x-rays will be deployed in coordination with the Philippine Ports Authority and port operators.
Lapeña said procurement of the x-ray machines will follow government rules but will be completed within the year. – Roumina Pablo