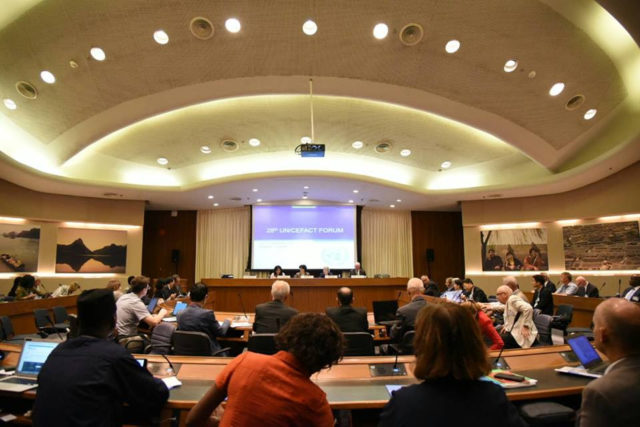 The 28th United Nations Centre for Trade Facilitation and E-business (UN/CEFACT) Forum took place at the United Nations Conference Centre in Bangkok from 26-30 September 2016. Over 130 experts from across the globe attended the Forum, which was co-organized by UNECE, Economic and Social Commission for Asia and the Pacific (ESCAP) and Thailand's Electronic Transactions Development Agency (ETDA).
Significant progress was made in advancing the current UN/CEFACT project and domain activities, according to the latest UN ESCAP Trade Facilitation Newsletter. In particular, the full draft of a UN/CEFACT Recommendation on Trade and Transport Facilitation Monitoring Mechanism (TTFMM) was finalized, incorporating much of ESCAP and UNNExT inputs. The recommendation is expected to undergo public review in the coming weeks, following UN/CEFACT establishing an open development process for international standards.
The Forum provided an opportunity to discuss further collaboration and strengthening information exchanges between UN/CEFACT, UNNExT and other relevant regional networks and expert communities. The Forum also included mini-conferences on topics such as Electronic Certification, Sustainable Fishery Management and Women in Trade Facilitation and Core Principles of the Operation of Single Windows. There was also progress on developing the UN/CEFACT Programme of Work 2017–2018.