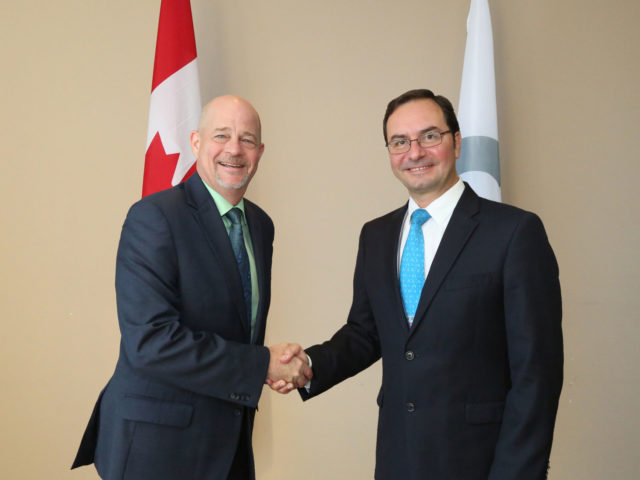 World Customs Organization (WCO) Deputy Secretary General Sergio Mujica attended the 2nd International Civil Aviation Organization (ICAO) World Aviation Forum (IWAF) in Montreal, Canada on 26 September 2016, upon the invitation of Dr Olumuyiwa Bernard Aliu, President of the ICAO Council and Dr Fang Liu, ICAO Secretary General.
The IWAF aims to identify needs, facilitate financing, foster partnership and share information and best practices to accelerate implementation of global standards on civil aviation security and facilitation. The Forum was attended by Ministers and high-level government officials responsible for transport, infrastructure, finance, economy, tourism and sustainable development, as well as by key industry players, financial institutions and international organizations, including the WCO.
The IWAF was opened by the ICAO President, who emphasized that the implementation of global standards for air cargo security and facilitation is crucial to support the UN 2030 Agenda for Sustainable Development, and to foster economic and social growth of all countries, but especially developing countries, including small islands and landlocked countries. The ICAO President also stressed the importance of building partnership with all stakeholders and other international organizations, such as the WCO.
In his intervention, WCO's Mujica presented the main areas in which the WCO and ICAO are cooperating, as well as the comprehensive action plan that is currently being implemented. The areas of cooperation include the creation of working groups in Montreal and Brussels, a joint brochure, and the organization of joint workshops and two-yearly conferences to offer a platform to all stakeholders to discuss and exchange information, experiences, expertise, best practices, new and emerging challenges, and potential ways forward. Mujica also thanked ICAO for its continued support to WCO activities, including its participation in the newly established working group on e-commerce.
During his mission to Canada, the Deputy Secretary General also travelled to Ottawa for a bilateral meeting with the Canada Border Services Agency (CBSA). Mujica first met with Martin Buldoc, CBSA Vice-President of Programs Branch, to discuss the WCO's vision on the future of Customs and CBSA's Strategic Directions. He also met with the CBSA management team and made a presentation on the WCO's Strategic Plan and priorities; this was followed by a discussion to identify areas of opportunity for further cooperation, including trade facilitation, e-Commerce, enforcement operations and capacity building. – article from WCO