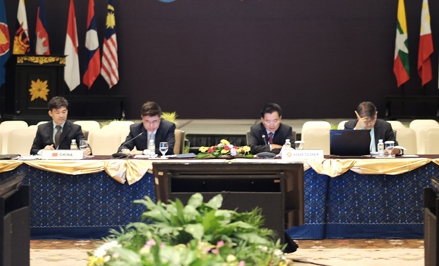 China Customs is proposing deepening cooperation with the customs administrations of member countries in the Association of Southeast Asian Nations (ASEAN) and has raised suggestions to achieve this goal.
Zou Zhiwu, vice minister of the General Administration of Customs of China (GACC), at a recent China-ASEAN customs consultation suggested increasing customs cooperation particularly under the "One Belt, One Road" initiative.
The GACC in an official release said China Customs seeks to "continue to deepen cooperation with ASEAN Customs in the framework of 'the Belt and Road', and jointly implement the consensus of the leaders of both sides … to (build) a closer China-ASEAN Community of Shared Future."
China Customs, it added, is looking at working with ASEAN customs authorities on "mutual information exchange, mutual recognition of supervision, and mutual assistance in law enforcement."
Zou further said China Customs is willing to work closely with ASEAN Customs in launching a basket of cooperation projects. He also suggested formulating an action plan for 2018-2020 in connection with implementing the China-ASEAN Cooperation Memorandum.
"Based on the respective needs, both parties should produce a list of specific measures to implement the memorandum, make plans, and conduct annual discussions on the scope of cooperation for the next two years," he added.
Working with specific ASEAN agencies
The release said that ASEAN member customs at the consultation in turn "all expressed their strong desire to negotiate, sign cooperation documents and further deepen the cooperation with China Customs."
On the part of Indonesia, desired areas for collaboration include customs enforcement, twinning customs projects, and cooperation on origin verification.
These are currently being negotiated and incorporated into "a comprehensive strategic cooperation document, which is expected to be signed by the end of this year," said GACC.
The Philippines, on the other hand, is focused on information exchange as basis for cooperation. "The Philippines hopes to cooperate with China in terms of the exchange of statistical data and data comparison of bilateral trade," said the GACC report.
"To better implement the bilateral customs administrative assistance agreement, the Philippines hopes to actively negotiate and sign relevant agreements on implementation rules."
Malaysia is seeking to forge an authorized economic operator (AEO) mutual recognition pact to provide enterprises with affordable customs clearance facilitation procedures.
"Malaysia wishes to reach an agreement on the text of AEO mutual recognition cooperation and sign the law enforcement cooperation documents with China within this year," said the release.
Meanwhile, "Cambodia hopes to sign the China-Cambodia Customs Mutual Assistance Agreement as soon as possible so as to further consolidate the traditional friendly ties between the customs of both nations."
Laos wants to see the formulation of the implementation rules for the Arrangement on Customs Clearance Facilitation Cooperation between its Ministry of Finance and the GACC.
Customs officials from ASEAN also expressed plans to visit Beijing within this year to discuss future cooperation plans. They reportedly requested China to continue to support moves to modernize container scanning equipment, seal AEO mutual recognition programs, combat drug smuggling, and other customs activities.
According to China Customs statistics, trade volume between the two parties reached US$111.97 billion in the first quarter of this year, an increase of 18%. China is ASEAN's largest trading partner, while ASEAN is China's third largest trading partner, the second largest source of imports, and the fourth largest market for export.
Photo courtesy of GACC