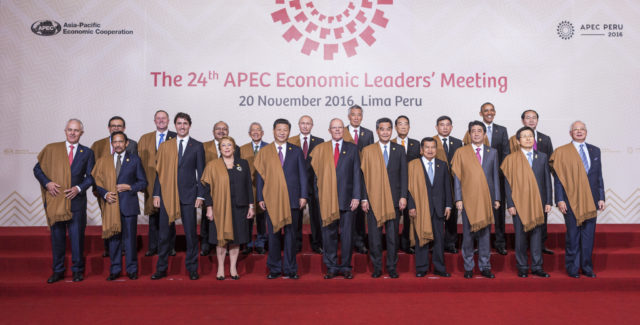 The Leaders of the 21 APEC member economies concluded the 2016 APEC Economic Leaders' Meeting in Lima on Sunday by adopting a Declaration on advancing quality growth and human development.
View the 2016 APEC Economic Leaders' Declaration
The Declaration describes policy commitments for APEC members to take forward in pursuit of this objective. Focus is on addressing challenges and opportunities for free trade and investment in the current global context. Moving towards real and functional connectivity in the region, and food security, climate change and access to water are complementary priorities.
The following annexes accompany the Declaration:
Annex A: Lima Declaration on Free Trade Area of the Asia-Pacific (FTAAP)
Annex B: APEC Services Competitiveness Roadmap (2016-2025) 
View the Annexes—Click and See Right
A press conference featuring Peru President Pedro Pablo Kuczynski, Chair of the 2016 APEC Economic Leaders' Meeting, will take place here on Sunday evening.
Viet Nam will chair APEC throughout 2017 and host the 25th APEC Economic Leaders' Meeting in Da Nang. – APEC release