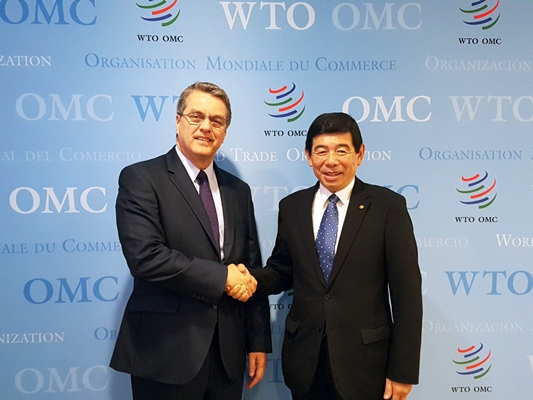 The World Trade Organization (WTO) and the World Customs Organization (WCO) have agreed to further enhance their collaboration in support of trade facilitation.
On the margins of the 6th Global Review of Aid for Trade on July 11-July 13, WCO Secretary General Dr. Kunio Mikuriya and WTO Director-General Roberto Azevêdo met on ways to implement the WTO Trade Facilitation Agreement (TFA).
Mikuriya informed Azevêdo that in relation to this, the WCO released a communiqué following the recent WCO Council Sessions emphasizing the entry into force of the WTO TFA last February and the importance of national committees on trade facilitation (NCTFs) in promoting cooperation and coordination among all stakeholders.
The communiqué also urges other border agencies to inform NCTFs of their readiness to implement the TFA provisions and identify requirements, as this will enable members to finalize their notifications to the WTO and hasten the provision of technical assistance and capacity building as a result. NCTFs will play an important role in implementing coordinated border management, including single window projects, and identifying bottlenecks using the time release study.
Azevêdo welcomed the WCO's offer to support the newly established WTO Trade Facilitation Committee and expressed his hope for close cooperation in this respect.
Mikuriya explained that the WCO can support TFA implementation by sharing members' practices as a first step, based on which WCO can develop guidelines and standards. One such area is transit, for which guidelines were recently launched at the WCO Global Conference on Transit. Another such area will be special customs regimes and zones, which the WCO is working on as part of the economic competitiveness package action plan.
On future collaboration on e-commerce between the two organizations, Mikuriya said work is being carried out by the WCO together with new e-commerce supply chain actors under the umbrella of the working group on e-commerce.
The work centers on developing practical operational solutions for the cross-border movement of physical goods intended for consumers after online initiation. The work will allow WCO members to address the challenges posed by the tremendous growth in e-commerce, including revenue leakage, safety, security, and other risks.
Azevêdo stressed that customs plays an important role in developing an enabling environment for further growth of e-commerce, referring to consumer protection as one of the key issues. He also welcomed the WCO's practical expertise in e-commerce, which could make an important contribution to the high-level discussions taking place at the WTO.
Photo courtesy of WCO