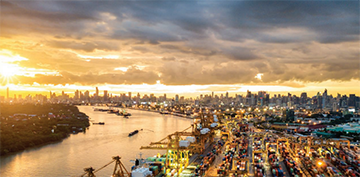 Growth forecast for China cut sharply to 2.8% this year, rising to 4.5% in 2023
Vietnam, with forecast growth of 7.2% this year, leads ASEAN upgrades followed by the Philippines at 6.5% and Malaysia at 6.4%
The World Bank says China lost its momentum while most East Asian and Pacific countries saw demand growth after relaxing COVID-related restrictions
The World Bank has lowered its annual growth forecast for the Asia-Pacific region in its latest economic update that has sharply downgraded China but lifted Vietnam, the Philippines and their three other ASEAN peers.
In its report, "Reforms for Recovery, East Asia and Pacific Economic Update, October 2022" published on September 27, the World Bank said the region's economies are expected to grow 3.2% in 2022, down from a 5% forecast in April, as China's lockdowns continue to disrupt factories and dampen spending.
The Washington-based financial institution nearly halved its China growth forecast to 2.8% from 5% in April. For 2023, China is expected to grow 4.5%.
"Growth in most countries in the East Asia and the Pacific (EAP) region rebounded in the first half of 2022, but China lost momentum," the report said.
"In much of the region, domestic demand revived after the distress of the COVID-19 Delta wave. In China, the public health measures to contain outbreaks of the highly infectious Omicron variant inhibited consumption."
China, which rebounded earlier past pre-pandemic levels, continues to outpace the region despite slowing growth, the World Bank said.
The bank said most of the region should grow faster and have lower inflation in 2022 than other regions.
The Philippines, Thailand and Cambodia will return to pre-pandemic production levels by yearend, the bank said. Indonesia and East Timor will remain flat, while their Association of Southeast Asian Nations peers Vietnam and Malaysia will ease, the bank forecast.
The deep cut for China slowed the bank's forecast expansion for the region to 3.2% this year, from 5% growth forecast in April. Excluding China, the region is expected to grow 5.3% in 2022, boosted by upgrades in forecasts for Malaysia, the Philippines and Thailand.
The bank upgraded its forecast for the Philippines to 6.5% growth for this year from 5.7% in April, trailing Vietnam's 7.2% expansion that was raised from 5.3% in April. Malaysia followed closely with 6.4% from 5.5%.
Growth in 2023 will slow to 6.7% for Vietnam, 5.8% for the Philippines, and 4.2% for Malaysia.
Their ASEAN peers Indonesia and East Timor will remain unchanged at 5.1% and 3.0% this year and next.
Thailand was likewise lifted from 2.9% in April to 3.1% this year and was forecast to expand further to 4.1% next year. Cambodia was raised to 4.8% this year from 4.5%, expanding to 5.2% in 2023.
The growth forecasts for Laos and Mongolia were lowered to 2.4% and 2.5%, respectively, as inflation, higher interest rates and weaker currencies weaken their purchasing power and debt-servicing capacity. Both countries were forecast to grow further to 3.8% and 5.5% next year.
Aside from Laos and Mongolia, most of the region would be able to bear the US Federal Reserve's accelerated interest rate increases "relatively well" as more debt is domestic rather than sourced abroad.
The report covers East Asia, Southeast Asia and the Pacific islands, but excludes Japan and the two Koreas.
The World Bank's update comes a week after the Asian Development Bank predicted in its latest report that Developing Asia will outgrow China for the first time in more than 30 years with economic expansion continuing this year and next. Vietnam, the Philippines and Indonesia will be among those at the growth front, ADB said.
The World Bank said global deceleration, rising debt, and policy distortions could be a drag on growth after 2022.
Current measures to contain inflation and debt are adding to existing distortions in the markets for food, fuel and finance in ways that could hurt growth. In each case, more efficient measures could address current difficulties without undermining longer-term objectives, the bank said.
The bank said the relatively strong growth in most EAP countries in much of 2022 stems from a robust rebound of private consumption in the first half after the Delta wave in H2 2021.
Sustained global demand for EAP exports of manufactured goods and commodities, and the limited tightening of fiscal and monetary policy contributed to the expansion, the bank said.
The economic impact of COVID-19 may now be small in much of the world but it is still significant in China and in the Marshall Islands, Micronesia, and Palau.