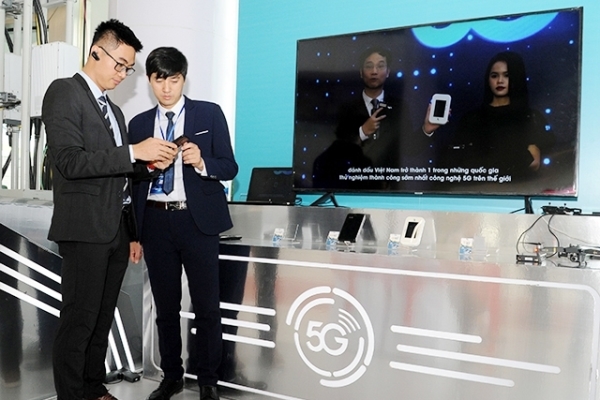 The digital economy in Vietnam is growing rapidly, forecast to reach US$30 billion by 2025 with e-commerce as the fastest developing area, according to the Ministry of Information and Communications.
The ministry, citing research from Google and Temasek, said Vietnam's digital economy was valued at about $3 billion in 2015, rose to $9 billion in 2018 and is forecast to reach $30 billion by 2025.
In particular, e-commerce is the fastest developing field, growing at about 30% a year, with revenue in 2018 at about $8 billion and expected to reach at least $10 billion by 2020, the ministry said in a release late this month.
The explosion of the digital economy not only brings opportunities but also creates new challenges, said the ministry. In addition to institutional and legal issues, there is the risk of network insecurity. According to the National Cyber Security Centre, in 2018 more than 10,000 cyber attacks occurred in Vietnam.
In addition, Industry 4.0 and the digital economy can pose a huge risk, as at least 30% of current workers are predicted to likely lose their jobs to new technologies and robots. Meanwhile, according to the National Centre for Socio-Economic Information and Forecast, 77% of Vietnam's labor force does not have sufficient technical and professional qualifications to adapt to current digital economic developments.
Vietnam is also still limited in the ability to harness Industry 4.0 opportunities due to limitations in technology, finance, infrastructure and technical human resources, said the ministry.
Another challenge comes from the integration process. As Vietnam has joined some of the most prominent trade agreements in the world, it will also be subjected to enormous competitive pressure from other economies.
"Integration creates pressure, however, it is also an opportunity for Vietnam to gain access to the knowledge and technology of mankind," said the agency, adding that integration will allow the country to bridge the gap and create greater efficiency for its digital conversion process.
The agency further said that over the past 10 years, Vietnam's digital economy has been developing constantly, contributing greatly to the economy, thus the urgency to take concrete steps to seize opportunities from digital conversion.
To boost the sustainable development of the digital economy and reduce the risks, suggestions include solving the legal challenges by creating favorable legal corridors, and encouraging businesses to make the most of digital technologies and make innovation their highest priority.
Strong support and open management thinking from the government is also needed to "untie" enterprises, especially to provide support to small and medium-sized ones.
The government and the private sector also need to upgrade digital infrastructure and apply digital technology solutions to deploy smart connected digital apps, accelerate cashless payment methods, and improve e-government.
Tax incentives for investment activities are also needed to accelerate the development of digital infrastructure and information security. To upgrade digital infrastructure, experts suggest the urgent deployment of 5G services to improve connectivity in the age of the internet of things (IoT) and open up opportunities for Vietnamese businesses.
In addition, IT human resources play a very important role. Human resource training programs should aim to accelerate the socialization of IT education, especially the updating of training curricula associated with new technology trends, such as IoT and artificial intelligence, to provide students with access to this field as soon as possible.
Photo courtesy of the Ministry of Information and Communications