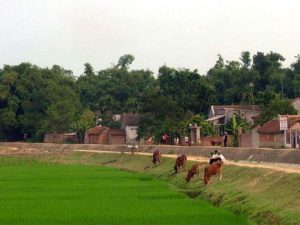 To boost export value, Vietnam plans to enhance the competitiveness of its export products in line with the restructuring of its economic growth model, according to a decision recently issued by the Prime Minister.
Under Decision 1137/QD-TTg, Vietnam seeks to raise export value in 2010 to triple the amount by 2020, gain a trade balance in 2020, and achieve a trade surplus in the 2021-2030 period, according to a report by state-run Vietnam News Agency.
The decision further stipulates improving the quality and value of products that show export advantage so as to reach an average export revenue growth of 8% per year during the 2016-2020 period.
Under the plan, exports of major agriculture and fishery products must increase on average by 20% yearly and be promoted in developed countries and regions such as the European Union, Japan, and South Korea.
The project also targets enabling Vietnamese firms to eventually participate in the higher added value stages of the global supply chain.
From 2021 to 2030, export growth is expected to reach 9% to 10% per year, and by this time Vietnam is envisioned to have highly competitive firms under each export product category.
The project will focus on two categories that show export advantage, namely, agriculture and fishery products, and processed products.
Export products to be given priority by 2020 include rice, coffee, rubber, and fishery products. They also include pepper, cashew, cassava, fruits and vegetables, as well as garments and textiles, footwear, wood products, handbags, and umbrellas. Also on the priority list are phones and components, computers and parts, cameras, transportation means, machinery, and electric wires.
During the 2021-2030 period, products to be improved in terms of competitiveness include tea, honey, raw materials for the garment and footwear sector, plastics, fertilizers, and chemicals.
To achieve these goals, Vietnam plans to reorient production methods towards increasing the proportion of high value-added products, said the report.
In addition, the export market will be expanded by developing national brands, products brands, and business brands, while enhancing national competitiveness by creating favorable operating conditions for firms.