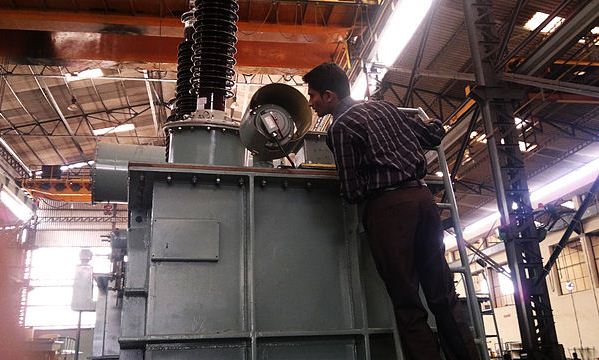 Vietnam saw strong growth in its industrial production index (IIP) and export value in the first seven months of 2018, according to the latest figures from the General Statistics Office (GSO).
The IIP in July grew 14.3% over the same period last year, pushing total growth in the first seven months to 10.9%, higher than the 7.1% in the same time last year, said GSO.
This is thanks to the expansion of many major economic sectors, especially processing and manufacturing, which recorded the highest expansion in the recent seven years.
In particular, the processing and manufacturing industry maintained high growth at 13.1%, contributing 9.9 percentage points to total expansion. It was followed by power manufacturing and production which increased 10.7%.
Some sectors in the secondary industry (dominated by the manufacturing of finished products) also saw high growth, such as refined oil production (up 64.1%), mineral mining support services (up 25.2%) and electronics, computers and optical products (up 16.4%).
Many primary products rose substantially against the same period last year, including crude steel (up 41.1%), passenger cars (up 32.9%), liquefied petroleum gas (up 32.7 %), synthetic fibers (up 19.1 %), refined sugar (up 18.9 %), seafood feed (up 18.5%), and television sets (up 14%).
However, some products saw declines in production due to lower demand, such as crude oil (down 11.3%), mobile phones (down 0.9%) and urea fertilizer (down 3.5%).
All 63 cities and provinces posted higher growth in industrial production against 2017's corresponding period.
In the first seven months of 2018, processing and manufacturing was the most attractive sector for investors, luring more than US$13.6 billion of foreign direct investment.
Exports up 15%
Meanwhile, Vietnam gained a trade surplus of $3.1 billion in the first seven months of this year as export value jumped vigorously, according to GSO.
The country's total export value during the first seven months rose 15.3% year-on-year to $133.7 billion.
On the other hand, import growth was slower with the total import value in the first seven months of this year rising 10.2% to $130.6 billion against the same period of last year.
However, GSO said that from May to July, the nation had a trade deficit in each month. The trade deficit was $500 million in May, $100 million in June, and $300 million in July.
The GSO reported that major export products continued to achieve strong increases, in particular telephone and parts with a growth of 15.8% to $26.1 billion; textile and garment, up 16.2% to $16.5 billion; and electronic products, computer and parts, up 14.8% to $15.7 billion.
They also included footwear, up 8.9% to $9.1 billion; machine, equipment and parts, up 27.1% to $9 billion; wood and wooden products, up 13.4$ to $4.8 billion; and transport means and parts, up 15.2% to $6.4 billion.
The nation saw growth in export value for some agro and seafood products (up 8.1% to $4.7 billion), vegetables and fruits (up 14.6% to $2.3 billion), and rice (up 31.5% to $2 billion).
However, reduction in the global export prices drove export value down for some farming products from Vietnam, such as coffee (down 4.5% to $2.2 billion), and rubber (down 9.7% to $1 billion).
Crude oil exports dropped in volume by 46.4% and in value by 25.3% to $1.3 billion.
Photo: Shriram