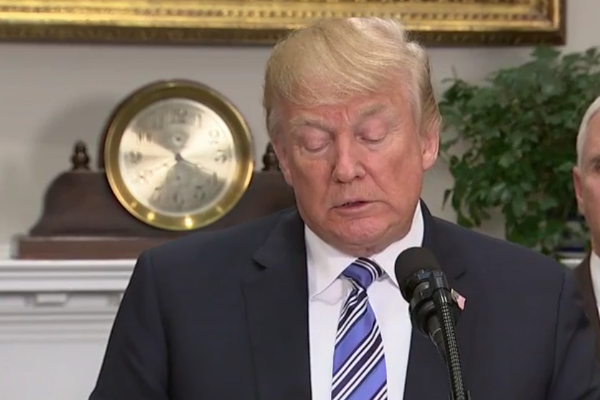 Following President Donald Trump's signing of a presidential proclamation on March 8 imposing tariffs on steel and aluminum products from certain countries, U.S. Secretary of Commerce Wilbur Ross released this op-ed piece March 9 entitled "Why We Imposed the Metal Tariffs":
"President Trump announced Thursday that he is imposing tariffs of 25% on steel imports and 10% on aluminum imports, with exemptions for Canada and Mexico. The president acted because steel and aluminum imports have helped erode the domestic industry to the point that it threatens national security. Unfair trading practices from countries like China have distorted the global steel and aluminum markets. It is time to halt the damage.
"Since 1998, countless steel mills and aluminum smelters have closed. More than 75,000 steel jobs alone have disappeared. Today the U.S. has only one steel mill that can produce the advanced alloys used in armored-vehicle plating; one aluminum smelter that makes the high-grade aluminum needed for defense aerospace applications; and one steel mill that makes the materials needed for infrastructure like electrical transformers.
"These tariffs aim to reverse this sorry state of affairs. Companies that produce steel and aluminum have said these tariffs will allow them to reopen mills, expand operations, attract new workers, and maintain critical steel- and aluminum-making skills.
"It is true that higher steel and aluminum costs could mean price increases for American consumers. But they should be small for individuals and families. Monthly payments for a typical mass-market car might increase by $4 because of the tariff, according to Commerce Department estimates. Is that a fair price to pay for protecting national security? We think so.
"Will it start a trade war? It shouldn't. The U.S. isn't the only country that has expressed concern about the types of unfair trade practices that are prevalent in the steel and aluminum industries. Countries like China have provided massive subsidies to their companies, and this is harming markets world-wide.
"The U.S. has tried to work with others to address these problems. Unfortunately, mechanisms like the Global Steel Forum have fallen woefully short of their aims, with other countries failing to adhere to even basic transparency commitments.
"The president will not stand idle while unfair practices erode America's steel and aluminum industries and threaten national security. Other countries understand that.
"Further escalating this issue is counterproductive. Rather, countries should take responsibility for their unfair practices and work together to address the underlying problems facing these industries. The U.S. is ready and willing to engage in such efforts.
"The president has the authority to adjust or exempt countries from these tariffs at any time based on circumstances and national security considerations. That is why he is exempting Canada and Mexico. We expect continuing negotiations to create more national-security benefits than the tariffs.
"Meanwhile, we will not hesitate to continue standing up for American families, American businesses and American workers."