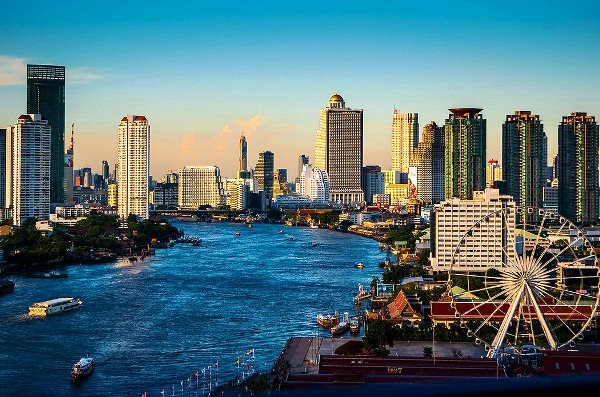 Under free trade agreements (FTAs), Thailand's trade with its 17 partner countries reached more than US$140 billion in value in the first half of this year, according to the Department of Trade Negotiations.
Trade negotiations director general Auramon Supthaweethum said overall trade between Thailand and its 17 FTA partners in the first half of 2019 amounted to $142.97 billion. Of this, $70.16 billion represents exports, and $72.81 billion is the import figure.
ASEAN remained the top partner with trade at $53.56 billion. Vehicles and car parts, processed oils, chemicals, jewelry and accessories, and plastic beads were the main exports to the region, reported the National News Bureau of Thailand.
China ranked number two with $37.85 billion in trade value. Plastic beads; rubber products; chemicals; fresh, chilled, frozen, and dried fruit; and computers and parts were the main export products from Thailand.
Japan was the third biggest partner with trade value of $28.92 billion. Cars and parts; processed chicken; electrical appliances and parts; fax machines, phones and parts; and machinery were the main products exported by Thailand.
Australia came in at number four with $7.11 billion. Exports to the country included vehicles and car parts, air conditioners and parts, rubber products, plastic beads, and canned and processed seafood.
South Korea ranked fifth with $6.96 billion in trade value. White sugar, air conditioners, computers, rubber products, and electrical circuits were the main products shipped from Thailand.
Thai GDP, exports in slowdown
Meanwhile the National Economic and Social Development Council (NESDC) reported that Thailand's gross domestic product (GDP) growth in the second quarter dropped to 2.3% compared to the first quarter's 2.8%, impacted by the trade war and world economic slowdown.
NESDC Secretary General Thossaphorn Sirisamphan said the trade war between the United States and China helped drive the Thai economic slowdown. The country saw a 4.2% drop in exports in the second quarter, compared to a 4% decline in the first quarter.
Export goods with reduced value included rice, which dropped 24%; rubber which dropped 8.5%; and vehicles which dropped 13%.
The NESDC has forecast that the Thai economy will grow by an average of 3% throughout this year, in a range of 2.7% to 3.2% compared to an average of 3.6% in a range of 3.3% to 3.8% as earlier predicted.
Exports, affected by external factors, are anticipated to drop 1.2% this year, compared to a 2.2% rise as earlier expected.
Photo: Nik Cyclist from Bangkok, Thailand