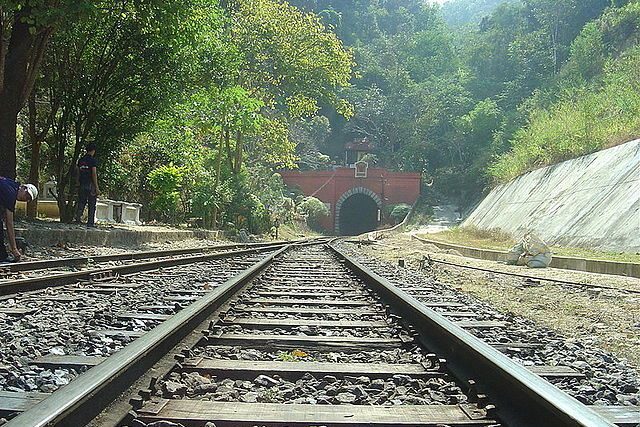 Thailand is planning to revive a railway line that once linked to Malaysia but that has been in disuse for more than 20 years in a bid to increase connectivity between the two countries.
The proposal to reconnect the border town of Sungai Kolok in the southern province of Narathiwat, Thailand and Malaysia's Kelantan state is being spearheaded by the Southern Border Provinces Administrative Centre (SBPAC), according to the local media.
SBPAC had met with railway authorities from Thailand and Malaysia to discuss the project, said SBPAC secretary-general Somkiat Polprayoon.
The meeting was a follow-up to an agreement reached between Thai Prime Minister Prayut Chan-o-cha and his Malaysian counterpart Mahathir Mohamad in October last year to enhance road and rail connectivity between southern Thailand and northern Malaysia.
In 1954, railway authorities of both countries signed a joint train service treaty that covered service between Sungai Kolok and Tumpat (Kelantan state). However, the service was halted about two decades ago because the route was being used to smuggle both goods and people.
Circumstances have changed since then and the restoration of service would stimulate border trade, according to Polprayoon.
In late April 2019, Thailand and Cambodia restored a rail service that was suspended 46 years ago.
Thai PM Prayut and his Cambodian counterpart Samdech Techo Hun Sen co-chaired the inauguration April 22 of the reopening of the railway connecting Aranyaprathet district of Thailand's easternmost province of Sa Kaeo and Poi Pet city of Cambodia.
Public services are expected to start soon on the 1.3-kilometer cross-border rail link that is expected to promote trade and transport between the two countries.
According to Thailand's Foreign Trade Department, border trade between the two countries reached THB145 billion (US$4.53 billion) in 2018, of which 62% of goods were passed through the border between Aranyaprathet and Poi Pet.
Earlier, Cambodia restored the 385-kilometer road from Phnom Penh to the Thai border and resumed its operation last year.
Also in April 2019, Thailand signed a memorandum of understanding (MOU) with Laos and China to develop a railway connecting Nong Khai province in northeastern Thailand with the Lao capital of Vientiane.
According to the MOU, a rail bridge connecting Nong Khai and Vientiane will be built near the Thai-Lao Friendship Bridge, with China providing technical assistance during construction.
Once completed, the rail will connect to the 252.5-kilometer high-speed railway system, which is in the process of establishing a project between Bangkok and Nakhon Ratchasima province, also in northeastern Thailand, via the 355-kilometer Nakhon Ratchasima-Nong Khai rail link, which is due to be completed by 2023.
Photo: Pongsak ksm