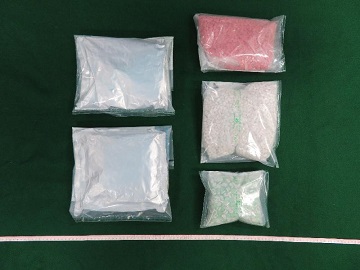 Hong Kong Customs seized about two kilograms of suspected ketamine and about 7,000 tablets of ecstasy with an estimated market value of about HKD1.9 million (over US$242,000) at Hong Kong International Airport on two separate occasions in March.
In terms of the number of tablets seized, this is the department's largest seizure of suspected ecstasy in the past 10 years, the agency said in a statement.
On March 16, Customs officers inspected an air consignment from Germany and found about two kilograms of suspected ketamine inside. Customs officers then inspected another air consignment from Germany on March 22 and found about 7,000 tablets of ecstasy. The consignments were destined for commercial premises in Tsim Sha Tsui and Mongkok, respectively.
After follow-up investigation, Customs officers on May 2 arrested a 56-year-old man and a 30-year-old woman in Tsim Sha Tsui.
Investigation is ongoing, said the agency.
"Customs will maintain close contact with Hong Kong Post and the logistics industries to step up action against drug trafficking through postal parcel or express courier channels," it stated.
Under the Dangerous Drugs Ordinance, trafficking in a dangerous drug is a serious offense. The maximum penalty upon conviction is a fine of HKD5 million and life imprisonment.
Photo courtesy of Hong Kong Customs