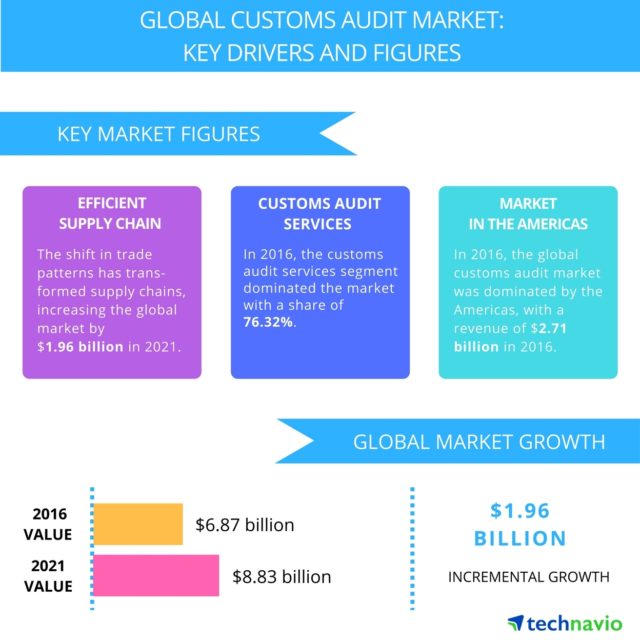 LONDON (BUSINESS WIRE) — Technavio's latest report on the global customs audit market provides an analysis on the most important trends expected to impact the market outlook from 2017-2021. Technavio defines an emerging trend as a factor that has the potential to significantly impact the market and contribute to its growth or decline.
Based on segmentation by service, the global customs audit market is divided into customs audit services and customs advisory services. In 2016, the customs audit services segment marked the dominance in the market with a majority share of 76.32%. This segment is forecast to continue to be the market leader through the forecast period due to the continued demand for the services from developing countries.
The customs advisory segment is a segment driven by the varied set of rules and regulations in place regarding trade and customs in different geographies. International trade is complex, and has been witnessing a shift towards APAC. In this complex scenario, customs audit advisory companies help customers to be efficient in the international trade market. This segment is forecast to be valued at USD 2.26 billion by 2021, according to Technavio analysts.
Request a sample report: http://www.technavio.com/request-a-sample?report=55326
Technavio's sample reports are free of charge and contain multiple sections of the report including the market size and forecast, drivers, challenges, trends, and more.
The top three emerging trends driving the global customs audit market according to Technavio research analysts are:
Emergence of new customs regulations like voluntary disclosure
Increasing digitization in customs audit and compliance
Increasing demand for risk management advisory services
Emergence of new customs regulations like voluntary disclosure
"New customs regulations like voluntary disclosures are likely to increase the role of professional customs service providers in the global customs audit market. These regulations allow for voluntary disclosure, where companies that import or export goods, voluntarily report violations to the customs department and accept the penalty. This usually leads to a lenient treatment or reduced administrative penalties," says Abhay Sinha, one of the lead market research analysts at Technavio.
The reduction in penalties and leniency provided depends mainly on the credit rating of a company, which is usually assessed by customs audit service providers. Some of the standard services offered are guidance to improve self-assessments for internal control of a company, compliance review to mitigate potential risks and improve compliance, professional advice on accounting, tax, and customs, and explanations to the customs department during customs audits.
Increasing digitization in customs audit and compliance
Digitization of industries like banking, financial services, and insurance, retail and manufacturing has led to their automation. The use of information and communication technology has entirely transformed the way the customs industry operates. There is an efficient and modern customs environment with digitized operations capable of handling operations like customs clearance systems and electronic exchange of information through a single window. This system promotes transparency, curbs corruption, and offers better data management.
A notable mention here is Malaysia, where a new information system known as uCustoms was successfully launched. This system enables effective information sharing, streamlined procedures, and collaboration among all agencies involved in the process. By adopting uCustoms, not only is there a reduction in clearance time, but also better provisions for companies to engage in proactive risk management and incorporation of online facilities to speed up the goods release process.
Increasing demand for risk management advisory services
Globalization, apart from bringing in massive business opportunities, also brought with it a corresponding global customs risk. Vendors in this market space are becoming proactive with the primary objective to manage these risks effectively. Effective risk management should incorporate regulatory compliance, financial results, and operations. Customs risk management can determine a company's international competitiveness in today's global marketplace.
"The customs and international trade services offered by professional service providers help companies mitigate customs risks. Customs risks includes compliance risks such as violations of customs law and duty payment and business risks which are associated with the business strategies and lost opportunities on FTAs due to lack of expertise. Companies seek out professionals with expertise to handle these risks effectively and swiftly, thus minimizing loss," says Abhay.
Browse Related Reports:
Become a Technavio Insights member and access all three of these reports for a fraction of their original cost. As a Technavio Insights member, you will have immediate access to new reports as they're published in addition to all 6,000+ existing reports covering segments like category spend intelligence, health and wellness, and outdoor gear. This subscription nets you thousands in savings, while staying connected to Technavio's constant transforming research library, helping you make informed business decisions more efficiently.
About Technavio
Technavio is a leading global technology research and advisory company. The company develops over 2000 pieces of research every year, covering more than 500 technologies across 80 countries. Technavio has about 300 analysts globally who specialize in customized consulting and business research assignments across the latest leading edge technologies.
Technavio analysts employ primary as well as secondary research techniques to ascertain the size and vendor landscape in a range of markets. Analysts obtain information using a combination of bottom-up and top-down approaches, besides using in-house market modeling tools and proprietary databases. They corroborate this data with the data obtained from various market participants and stakeholders across the value chain, including vendors, service providers, distributors, re-sellers, and end-users.