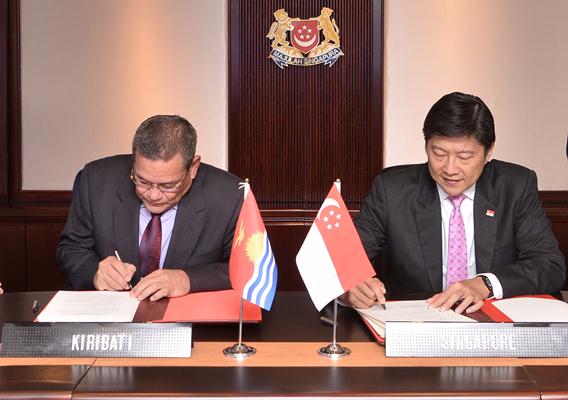 Singapore has concluded an open skies agreement with Kiribati, liberalizing services between the Southeast Asian country and the sovereign state in the central Pacific Ocean.
Under the agreement, the airlines of Singapore and Kiribati will be able to fly any number of services between both countries as well as beyond to any third country, with no restrictions on capacity, frequency, aircraft type, and routing.
In addition, cargo carriers from both countries will be able to use either country as a hub for operations to any third country, according to a statement from the Singaporean government.
The air services agreement (ASA) was signed on February 12, 2018 by Singapore's Minister for Education and Second Minister for Transport Ng Chee Meng, and Kiribati's Minister for Information, Communication, Transport and Tourism Development Willie Tokataake.
Ng said, "We are very pleased to conclude this Open Skies Agreement, which will fully liberalize air services between Singapore and Kiribati. This is testament to the strong bilateral relationship between Singapore and Kiribati."
He added that the  agreement will open up new opportunities for both carriers, enabling greater movement of people and goods between the two countries, and benefiting both businesses and people.
Kiribati is an island group located in Micronesia, comprising of 33 coral atolls and isles stretching along the equator.
With the Singapore-Kiribati ASA, Singapore has concluded air services agreements with more than 140 states and territories, of which over 70 are open skies agreements.