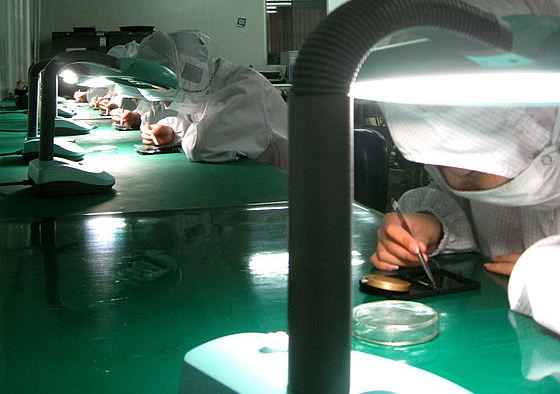 Manufacturing output at Singapore's factories soared 21.3% year-on-year in December 2016, spurred by a fired-up electronics industry and beating expectations as the sector logged its best monthly performance in five years.
Analysts said the low base of last year was a big factor in the expansion of December's factory output, but they also observed that with the sequential growth in output, the strong end to 2016 indicated the underlying improvement in global economic conditions.
Excluding biomedical manufacturing, output grew 16.1%, according to the Economic Development Board.
On a three-month moving average basis, manufacturing output rose 11.5% in December 2016 against a year ago. Month-on-month, it went up 6.4% in December 2016 compared to November 2016. Excluding biomedical manufacturing, output grew 6.9%. Overall, manufacturing output rose 3.6% in 2016 over 2015.
The electronics cluster's output jumped 49.4% in December 2016 year-on-year, buoyed by semiconductors production which expanded 94.0%. For the whole of 2016, output of the electronics cluster expanded 15.9% compared to 2015.
Biomedical manufacturing ballooned 44.9% year-on-year in December 2016. Pharmaceuticals expanded 53.8% with higher production of active pharmaceutical ingredients and biological products. Medical technology production also grew, surging 19.0% with higher output of medical instruments and ophthalmic goods. In 2016, output of the biomedical manufacturing cluster grew 13.6% compared to 2015.
Output in precision engineering increased 6.1% in December 2016 year-on-year. Machinery & systems grew 8.5% with higher export demand for semiconductor-related equipment while precision modules & components recorded higher output of industrial rubber, dies, molds, tools, jigs & fixtures, and metal precision components. Output of the precision engineering cluster inched up 0.8% in 2016 compared to 2015.
The chemicals cluster's output rose 4.1% year-on-year, supported by higher output in petrochemicals (18.4%), petroleum (16.7%), and specialties (4.1%). The higher output in petrochemicals and petroleum was partly due to plant shutdowns in December 2015, while higher output of mineral oil additives contributed to the growth of the specialties segment. The other chemicals segment registered an output decline of 12.6%. Output of the chemicals cluster fell 0.9% in 2016 compared to 2015.
General manufacturing grew 2.0% year-on-year in December 2016, mainly attributed to the 22.8% growth in the food, beverages & tobacco segment. However, growth in the cluster was moderated by declines in the miscellaneous industries (-10.6%) and printing (-14.6%) segments. In 2016, output in general manufacturing declined 2.5% from a year ago.
Transport engineering output contracted 10.5% year-on-year in December 2016. Aerospace and land transport production grew 15.0% and 11.5%, respectively, but this was offset by the decline in output for marine & offshore engineering (-26.1%). For the full year 2016, transport engineering output was 17.8% lower than in 2015.
Photo: Steve Jurvetson